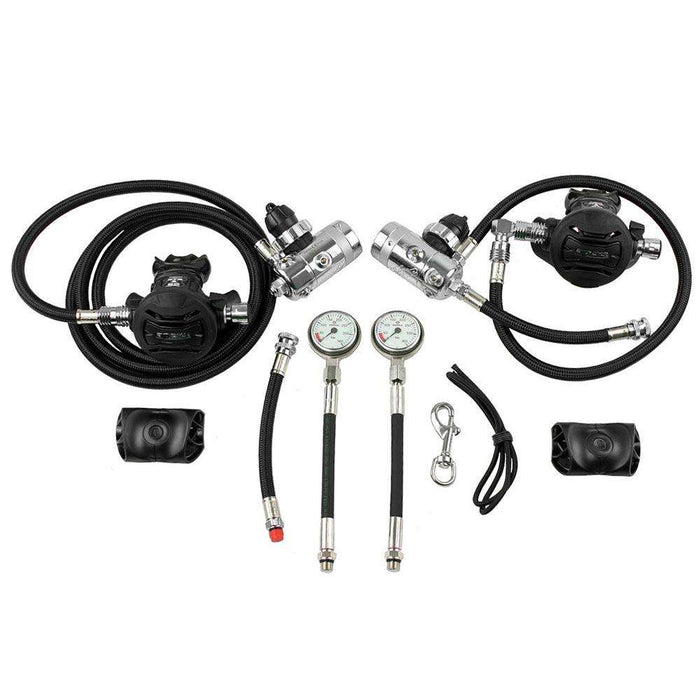 Apeks Sidemount Regulator Kit
Original price
R$ 10.420,00
-
Original price
R$ 10.420,00
R$ 10.420,00
-
R$ 10.420,00
Current price
R$ 10.420,00
As the popularity of sidemount diving continues to grow around the world, Apeks delivers a regulator kit that contains all of the necessary hardware and accessories to complete your breathing set-up, including two award-winning XTX50 regulators.
This product qualifies for Free Parts for Life
Kit Contents
2 ea. XTX50 DIN regulators with 5 port swivel turret

One XTX50 has a 83" / 210cm hose
One XTX50 has a 24" / 60cm hose

2 ea. custom length MP inflation hoses (one for buoyancy system, one for drysuit)
2 ea. brass pressure gauges with 6 inch hoses (units are imperial, in PSI)

Nitrox Compatible to 40% (The Recreational Limits of Nitrox)
Easy to read dial

1 ea. 90° elbow fitting
1 ea. bungee necklace
1 ea. stainless steel clip
2 sets of short exhaust ports
Regulator bag to hold all
Setup illustration, CD manual and quick start guide
Please see the XTX50 page for regulator features and benefits.