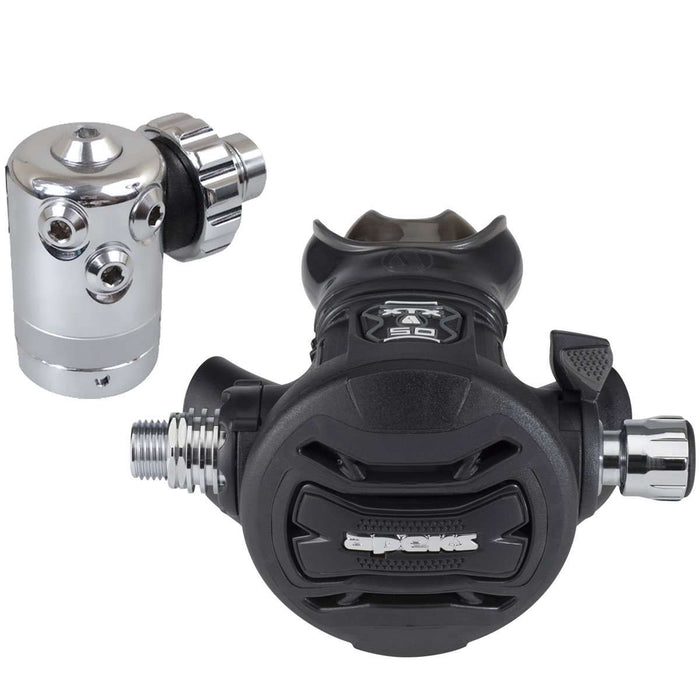 Apeks XTX50 Regulator, DIN with DS4
Sold out
Original price
R$ 3.016,00
-
Original price
R$ 3.016,00
R$ 3.016,00
-
R$ 3.016,00
Current price
R$ 3.016,00
The XTX50, DIN with DS4 is similar to XTX50 DIN but uses a different first stage. The DS4 first stage does not have the rotating turret found on the XTX50 first stage and offers one HP port.

This product qualifies for Free Parts for Life
The XTX50 Regulator is for the diver who wants the benefits of a feature-rich
regulator at a moderate price.
The compact DS4 first stage has four medium-pressure (3/8" UNF) ports and one high-pressure port (7/16" UNF). An environmental dry system keeps water out of the main spring chamber thus preventing ice build-up and keeping silt and contamination out. Suitable for cold water use below 50°F (10°C).
The first stage is over-balanced resulting in a higher medium pressure at each depth.This translates to a very responsive, easy breathing regulator.
Since this pneumatically balanced second stage is part of the XTX family, it has left/right reversibility providing multiple regulator configurations.
Features the innovative Diver Changeable Exhaust (DCE) System allowing the diver to change from a large exhaust tee to a smaller exhaust tee. The larger exhaust tee provides the best exhaust bubble dispersion while the smaller tee is lighter weight and compact, both are included with the regulator
Using the venturi control lever, the diver can prevent unwanted free flow when the regulator is out of the mouth and achieve a venturi boost while diving
Easy-to-grip opening effort control knob
DIN Connector
Suitable for cold water use