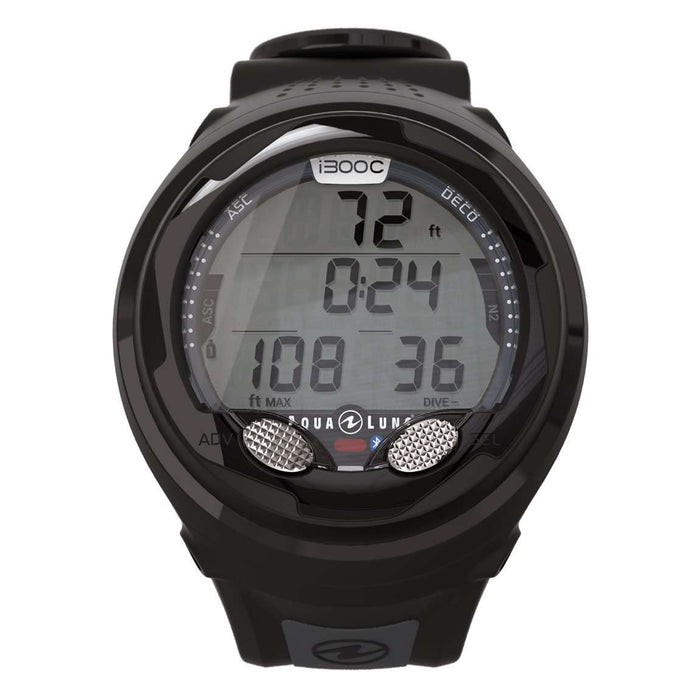 Aqua Lung i300 Wrist Dive Computer
Sold out
Original price
R$ 2.253,00
-
Original price
R$ 2.253,00
R$ 2.253,00
-
R$ 2.253,00
Current price
R$ 2.253,00
The i300C's uncomplicated, intuitive, and rugged design lets you focus on your dive, not your gear. With an easy-to-use interface,flexible operating modes, built-in backlight and water-activated on switch, the i300C gets you in the water and descending to your next adventure in no time. This durable, versatile and affordable dive computer is great for new divers as well as dive schools and centers. Users will appreciate the data retention feature that saves past settings and calculations between battery changes Wirelessly manage your dive data and settings on your mobile device via the computer's Bluetooth connectivity and after your dive share your memories, stats, photos, and dive site on social media all through the free DiverLog+ app
4 operating modes. Air, Nitrox, Gauge (with run timer) and Free Dive (tracks calculations to allow switching between DIVE and Free)
User-changeable battery and data retention. Maintains settings and calculations between battery changes
3 Gas computer. Able to switch up to three gases underwater
Backlighting. For easy reading in low light
Bluetooth data transfer to the DiverLog+ app
Using your mobile device, the free DiverLog+ app (available for iOS and Android) allows you to wirelessly interact with your i300C via the latest Bluetooth Smart technology.
Remotely control all your i300C settings, view log and profile data, add location, notes and other details, as well as store and share photos and videos of your dive.
Other Main Features
Audible alarms and additional high-visibility LED warning light for increased safety
User-updatable software gives access to the latest features and upgrades (must purchase optional download cable)
Pre-Dive planning feature allows a preview of your next dive
Water activation feature, to give a no-worries start to the dive
Single button press access to last dive display (max depth and bottom time)
History Mode includes total number of dives, max depth, total dive hours and lowest temperature
3 Nitrox mix to 100% O2
Optional deep stop with countdown timer
Salt or fresh water dive selection
Automatic altitude adjustment ensures an accurate profile
Simple to use with DiverLog software on the Mac or PC platforms, which allows control of all your dive computer settings, view Log and Profile data, add location, notes and other details, as well as store and share photos & videos. DiverLog must be downloaded at ediverlog.com
Includes:
Digital Instruction Manual
Safety and Reference Information
DiverLog Brochure
Quick Reference Card
Lens Protector
Battery Compartment Opening Tool