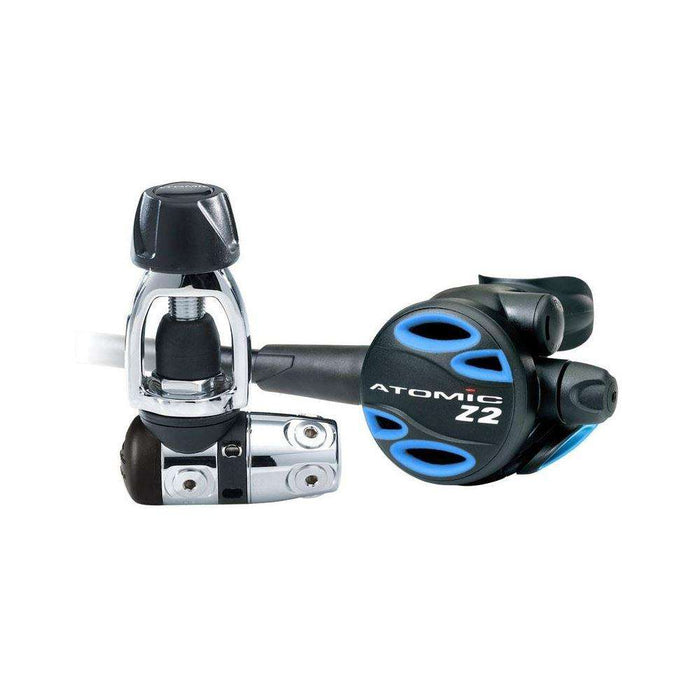 Atomic Aquatics Z2 Regulator, Yoke, Blue
Sold out
Original price
R$ 2.830,00
-
Original price
R$ 2.830,00
R$ 2.830,00
-
R$ 2.830,00
Current price
R$ 2.830,00
The Z Series is Atomic Aquatics most compact and economical regulator system. But its rare combination of performance, ergonomics and materials is unmatched by competitors at any price. The Z Series gives divers the assurance of the same Limited Lifetime Warranty as all Atomic regulators.
The Z2 regulator is a Balanced Flow-Thru Piston Design using Atomics Jet Seat High-Flow Stainless Steel Piston. Exclusive High-Pressure Piston Seal System is Self-Lubricating for Low Friction and Low Maintenance. The Regulator is NITROX ready for Mixtures Up to 40% out-of-the-box. The First-Stage has 2 High-Pressure (HP) 7/16" and 5 Low-Pressure (LP) 3/8" Ports.

The Z Series Second-Stage is a Balanced Linear Flow Design for Extremely Easy Breathing at all Depths and Dive Conditions. The Z Series Second-Stage is Built-to-Last with a Zirconium Plated Brass Demand Valve Body, Titanium Lever and Sealing Orifice. The Diaphragm is made from High Quality Silicone Rubber. This Pneumatically-Balanced Poppet Second-Stage has Atomics Patented Seat Saving Dynamic Orifice which unlike most Second-Stage Orifices is a Floating Valve Design which Reduces Wear on the Second-Stage Poppet Seat when the Regulator is not pressurized adding Life to this Important Seal.

The Z Seies Second-Stage Regulator is equipped with Atomics Patented Automatic Flow Control (AFC). This Unique Diaphragm Activated Vain Automatically Controls the Flow and Venturi-Effect of the Second-Stage for Optimum Breathing Resistance at all Depths. The Second-Stage does have a Rapid Adjustment Knob for Rare Special Situations. The Regulator comes equipped with a 3/8" Threaded 32" (81.3 cm) Low Pressure Hose. The Regulator weighs 2.3 lbs (1,070 g) comes with an Owner's Manual and is covered by a Limited Lifetime Warranty.
First Stage
First stage materials are chrome plated Brass and 316 Stainless Steel
Atomic Jet Seat high-flow piston first stage
Optional factory-sealed first stage to prevent outside contamination such as silt and sand
Nitrox ready for mixtures up to 40%
First stage ports available in 2 HP fixed / 7 LP on fixed cap
Second Stage:
Second stage components are made of precision machined Brass with Zirconium plating and Titanium
Patented Atomic Seat Saving Orifice (Titanium)
Patented Atomic Automatic Flow Control (AFC)
Rapid adjustment knob for manual second stage de-tuning in special situations
A new high-flow second stage case that significantly lowers breathing effort at any depth from shallow water to beyond the limits
Dual material second stage cover enables entire front to be used for purge
Dual silicone comfort fit mouthpiece with tear-resistant bite tabs
2 year/300 dive service interval
Limited Lifetime Warranty – not contingent on proof of service