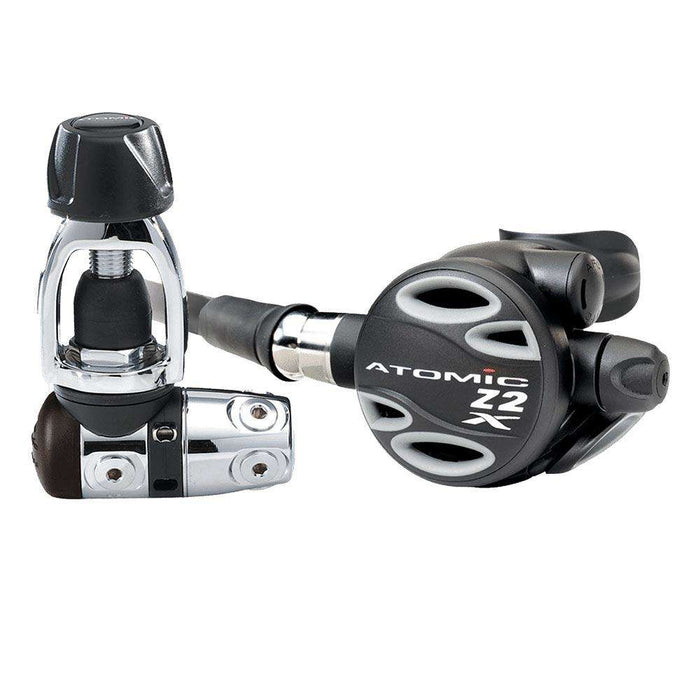 Atomic Z2 Yoke Sealed, Gray
Original price
R$ 3.027,00
-
Original price
R$ 3.027,00
R$ 3.027,00
-
R$ 3.027,00
Current price
R$ 3.027,00
The Atomic Z Series regulators offers a unique combination of performance, ergonomics, features and materials. All in our most cost efficient regulator system without compromising performance or durability.
The Z2 is a is a balanced flow-thru piston design using Atomics jet seat high flow stainless steel piston. Exclusive high-pressure piston seal system is self-lubricating for low friction and low maintenance.

Atomic Z2 is also freeze protected with a factory sealed first stage that also prevents contamination such as silt and sand from entering the valve mechanism. The regulator is Nitrox ready for mixtures Up to 40% out-of-the-box. The first-Stage has 2 high-pressure (HP) 7/16" and 7 low-pressure (LP) 3/8" ports.
The Z Series second stage is a balanced linear flow design for extremely easy breathing at all depths and dive conditions. The Z Series second stage is built-to-last with a Zirconium plated brass demand valve body, titanium lever and sealing orifice. The diaphragm is made from high quality silicone rubber.  The Z series second-stage regulator is equipped with Atomics patented automatic flow control (AFC). This unique diaphragm activated vain automatically controls the flow and venturi-effect of the second-stage for optimum breathing resistance at all depths.
First-Stage:

Chrome Plated Brass and 316-Grade Stainless Steel
Balanced Flow-Thru Piston Design
Atomics Jet Seat High-Flow Piston
Exclusive High-Pressure Piston Seal System is Self-Lubricating
Self-Lubricating for Low Friction and Low Maintenance
Precision Machined from an Extremely Strong Aerospace Specification Seat Material
Most Reliable Seat System in the Industry
Seat System: 2-Years or 300 Dives w/o Service
2 High-Pressure (HP) 7/16" Ports
7 Low-Pressure (LP) 3/8" Ports
Second-Stage:

Balanced Linear Flow Design
Pneumatically-Balanced Poppet Second-Stage
Built-to-Last: Zirconium Plated Brass Demand Valve Body, Titanium Lever and Sealing Orifice
Atomics Patented Seat Saving Dynamic Orifice
Unique Diaphragm Activated Vain Automatically Controls the Flow and Venturi-Effect
Optimum Breathing Resistance at All-Depths
Rapid Adjustment Knob for Rare Special Situations
High Quality Silicone Rubber Diaphragm