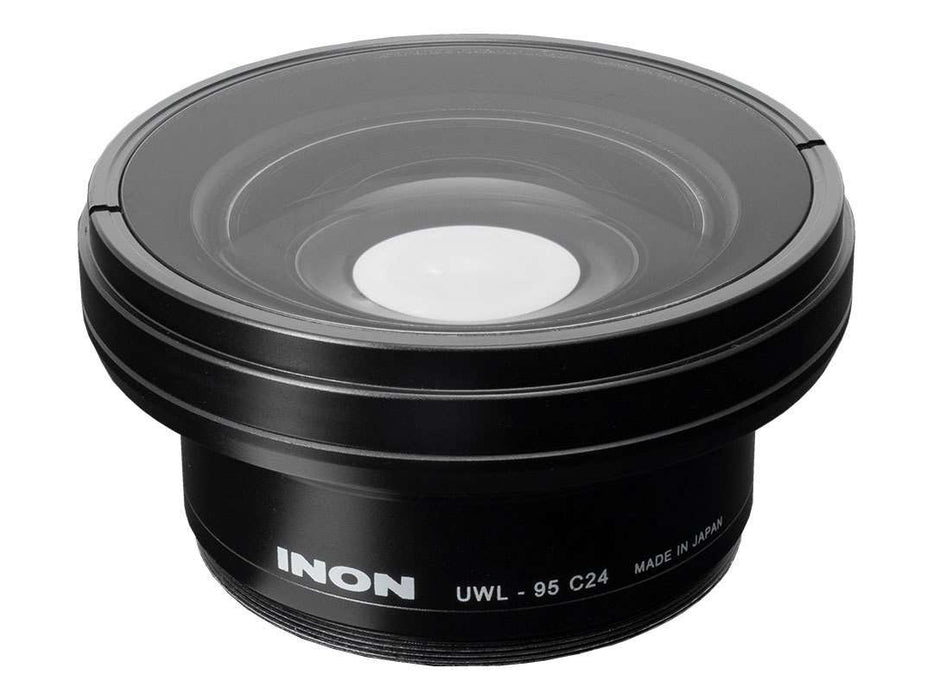 Inon Wide Angle UWL-95 C24 Lens M67 Mount Type 2
Sold out
Original price
R$ 2.151,00
-
Original price
R$ 2.151,00
R$ 2.151,00
-
R$ 2.151,00
Current price
R$ 2.151,00
Inon UWL-95 C24 M67 Type2 Wide Conversion Lens has renewed optical design that successfully supports shooting at 24 mm wide end by a digital camera equipped with large 1.0-type image sensor without vignetting to benefit enjoying quality underwater wide imaging in any situation.

Dual Use Land/Underwater
Maximum angle of view underwater is approx. 95°. When using on land, maximum angle of view increases approx. 159° to easily enjoy fisheye effect. Miniaturized lens body benefits you to capture both a subject in confined area and open space with camera stored in a housing. Combination with dedicated optional Dome Lens Unit III further increases maximum underwater angle of view up to 141°.
 
Minimum Focusing Distance 0 cm
Installing the UWL-95 C24 on compatible camera/housing will have minimum focusing distance 0cm*. A subject just in front of the lens or distant seascape never get out of focus. The lens won't limit shooting distance.
*When shooting at zoom wide end.
 
Renewed Optical Design for Quality Underwater Images
Redesigned optical construction effectively suppresses flare/ghosting even in unfavorable condition like shooting a subject with backlight. Optimized optical design for compatible cameras' master lenses, brings out sharp contrast and clear images
 
Optical Anti-Reflection Coating (AR-Coating)
Having AR-coating on each optical element provides clear and stable image quality in any situation including unfavorable condition likely to have flare/ghosting.

Usable with All Zoom Range
Usable throughout all zoom range when using the UWL-95 C24.

Compatible camera system
A housing with a lens port of 6 mm/0.2 inch or less distance between lens port edge and lens port surface.