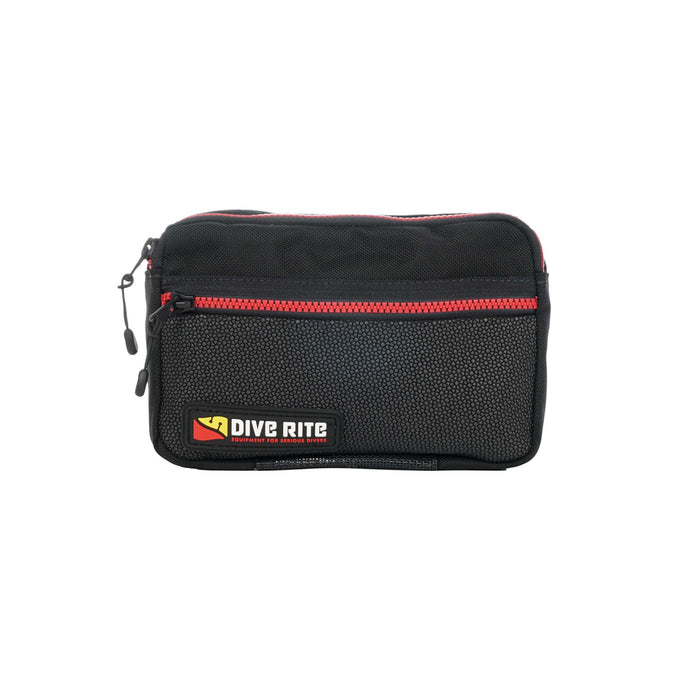 Dive Rite Bellows Horizontal Zip Pocket
Original price
R$ 276,00
-
Original price
R$ 276,00
Designed with a traditional horizontal style and two heavy-duty zippers on the long edge of the pocket, the Bellows Horizontal Zip Pocket w/Daisy Chain requires a little more space on a waist strap yet offers additional storage room with the secondary zip pocket, allowing you to carry everything you need on a dive. With two separate compartments, organizing your items couldn't be easier.
Need room for securing line markers, a safety reel, dive tables, extra clips, Jon lines, cookies, a spare mouthpiece, or a backup light; the bellows pocket comes with a 36-inch (92 cm) looped lanyard attached to the inside of the pocket for attaching any piece of gear you need. No more fumbling for the right tools, just pull out the lanyard, unclip the tool you need, and stuff the lanyard and gear back inside the pocket.

The bellows pocket has a large opening for easy access even when diving with gloves. Constructed from 1000 denier ballistic nylon with a Superfabric front that is tear and abrasion resistant and with two heavy-duty zipper closures, your gear stays secure in the pocket even when squeezing through a tight restriction or exploring deep inside a wreck. A heavy duty mesh panel allows for quick draining.

It easily attaches to a backplate or harness system using two 2-inch nylon webbing loops sewn to the back of the pocket. Just slip the loops over a standard 2-inch webbing waist strap and secure the pocket in place.
Pocket orientation: Horizontal style (opens on the long edge)
Storage compartments: 2
Closes via a heavy duty zipper
Lanyard: Internal 36-inch long (92 cm) (adjustable) lanyard to securely attach tools
Attachment options:

Two 2-inch (50 mm) nylon webbing loops on the back of the pocket slide over a standard 2-inch webbing strap
Two 1-inch (25 mm) stainless D-rings used in conjunction with double bolt snaps (see here) to clip the pocket off as a bum pouch while sidemounting
Single clip mounting using a double ended snap

Drainage: Heavy duty mesh panel
Internal depth: Expands from 0.5-in. to 1.5-in. (1.3 cm to 3.8 cm) to accommodate slates, maps, dive tables, spare masks, reels, Jon lines, and lights
Size: 6-in. high x 8-in. wide x 1.5-in. deep (15.2 cm x 25.4 cm x 3.8 cm)
Weight: 4.4 oz (125 g)