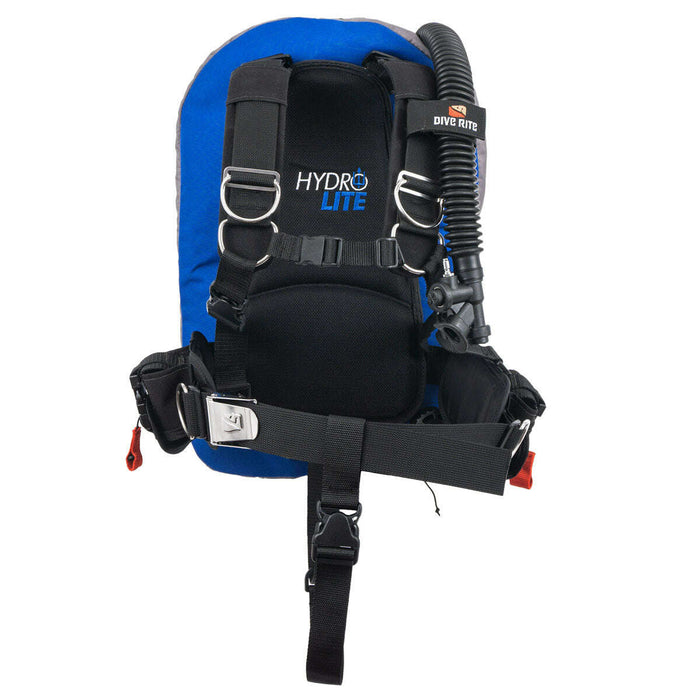 Dive Rite Hydro Lite BCD
Original price
R$ 3.099,00
-
Original price
R$ 3.099,00
R$ 3.099,00
-
R$ 3.099,00
Current price
R$ 3.099,00
The Dive Rite Hydro Lite BCD is an ultra-lightweight solution for technical and recreational divers. Designed for a single tank, the reliable and versatile BCD offers all-in-one convenience without sacrificing any of the features that discerning divers demand.
This streamlined air cell with thirty pounds of lift is ideal for a diver, tank, and weights. The 360-degree oval shape is designed to hug the cylinder tightly to assist the diver in achieving perfect trim. This prevents the air cell from trapping air and "taco-ing" around the tank. The Hydro Lite air cell is highly durable and built to last, with an outer bag made of 600-denier polyester material and an inner bladder laminated with 210-denier nylon.
A mountaineering backpack-style harness keeps the rig stable and guarantees that the Hydro Lite BCD is as comfortable out of the water as it is in it. On land, the harness is designed to distribute weight to the hips and alleviate stress from the back and shoulders. Standard two-inch waist and shoulder webbing allow the diver to customize the harness by adding or removing D-rings or accessories. Adjustable quick-release straps and an integrated chest strap make getting in and out of the harness a snap. Integrated lumbar, hip, and shoulder pads are included for added comfort.
The Hydro Lite BCD features a low-profile weight system with quick-release pulls. This integrated weight system eliminates the need for extra holsters or large pull handles, resulting in a more streamlined design. Each pocket can hold up to six pounds of hard or soft weight. The combination hook-and-loop and buckle retainer holds the weight securely while allowing the diver to quickly release their weights in an emergency.

Proudly made in the USA.
Weight: 6.2 lbs (2.8 kg).
Harness: 2 inch (5 cm) webbing construction with shoulder pads.
Air Cell Outer Bag: 600-denier polyester.
Lift: 30 lbs (13.6 kg).
Air Cell Inner Bladder: 210-denier laminated nylon.
Integrated Weight System: 12 pound (5.4 kg) total capacity with quick-release buckles.
D-rings: 4 x 2 inches (10 x 5 cm).
Quick-Release Crotch Strap: 1.5 inches (3.8 cm).
Roller Buckle Camp Strap: 1 x 2 in (2.5 x 5 cm).
Hook-and-Loop Retainer Strap: 1 x 2 in (2.5 x 5 cm).
Tank height adjustment strap.