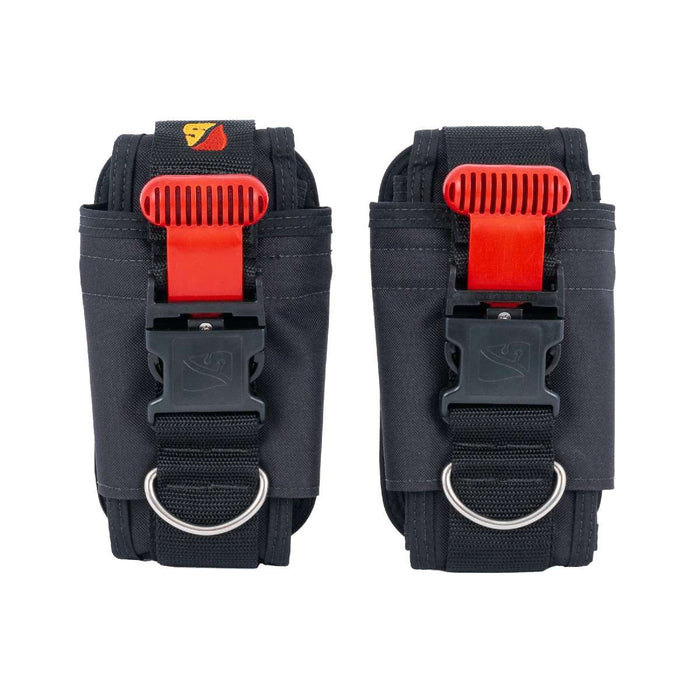 Dive Rite Quick Buckle (QB) 20 LB Weight Pocket
Original price
R$ 596,00
-
Original price
R$ 596,00
Diverite Quick Buckle (QB) 20 LB Weight Pockets can be mounted vertical or horizontal with quick release handles. 
The pockets designed to be worn with the TransPac and other harness using 2" / 5.1 cm webbing.
Simple, top-loading pocket protects divers from an inadvertent buoyancy event by keeping weight securely in place. Worn at an angle on the waist belt for easier access, the right hand pocket is identified by the color Dive Rite logo while the left pocket is plain, without a logo. Tall and narrow, our 20 lb QB Weight Pockets leave plenty of room on the waist for other accessories, if desired.

The weight pocket insert has two internal pockets that load from the top and the bottom. The internal pockets keep weight from shifting around and allow for either soft or hard weights.
Specification:

Holds up to 10 lbs (4.5 kg) in each pocket. Right hand pocket has the color Dive Rite logo. The left hand pocket is plain, without a logo.
1680 denier ballistic nylon fabric is tear and abrasion resistant.
Two-inch (50.8 mm) nylon webbing loops on the back of the pocket slide over a 2-inch webbing waist strap and secure the pocket into place.
Two-inch (50.8 mm) stainless slide locks pocket in place on any webbing
Acetyl quick buckle is used to easily secure the pocket in the holster.
Nickel plated brass grommets resist rust and corrosion.
Made in the U.S.A.