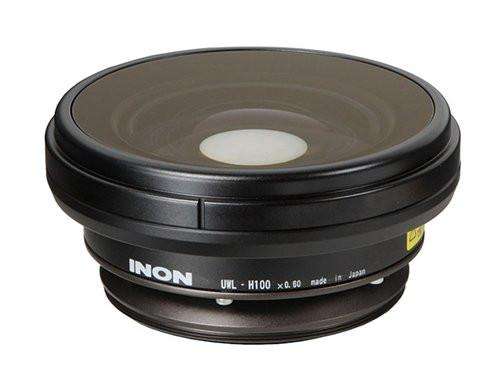 Inon UWL-H100 28M67 Wide Angle Lens (Type 2)
Sold out
Original price
R$ 2.160,00
-
Original price
R$ 2.160,00
R$ 2.160,00
-
R$ 2.160,00
Current price
R$ 2.160,00
Inon UWL-H100 28M67 Wide Angle Lens is a dual use (land/underwater) wide conversion lens specially designed for 28mm wide camera (35mm film equivalent). The maximum view angle is 100.8° underwater for wide imaging and 179° on land for fish-eye imaging.
Together with newly designed optical construction, using highly refractive optical elements provides larger effective diameter of the rear optical element in compact size to accommodate with latest camera model carrying larger image sensor and brighter master lens.
Unique optical design allows to shorten minimum focal distance with ultra wide view angle thus effective for wide macro shot.
Optional "Dome Lens Unit II for UWL-H100" further increases maximum view angle to 144.8° underwater for semi-fisheye imaging.
Optical construction consists of 4 elements in 4 groups with coated optical glasses which effectively suppress optical aberrations and elicits master lens performance.
Lens mount is highly versatile screw type "M67 Mount".
Model UWL-H100 28M67 Type2
Outer diameter / Length 90.4mm / 45.4mm (3.6in / 1.8in)
Weight (air / underwater) Type1: 555g / approx.345g (19.6oz / 12.2oz)
Type2: 556g / approx.346g (19.6oz / 12.2oz)
Lens construction 4 elements in 4 groups
Focal length (air / underwater) infinity / infinity (afocal system)
Magnification (*2) 0.60 (afocal)
Maximum incident view angle (air / underwater) (*3) 179.0°/100.8°
Body material / Finishing corrosion-resistant aluminum alloy / Rigid black almite
Glass / Coating Optical glass / Both side anti-reflection coating
Mount thread diameter / pitch M67-0.75
Depth rating 60m (197ft)