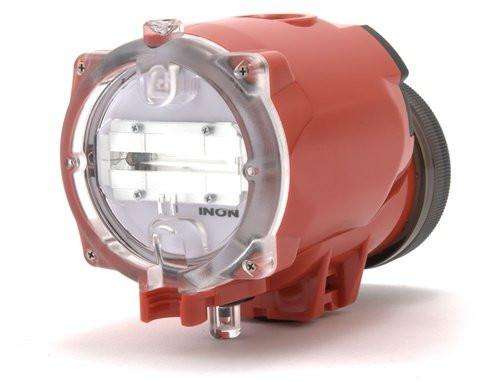 Inon S-2000 Underwater Flash / Strobe
Sold out
Original price
R$ 2.160,00
Original price
R$ 2.160,00
-
Original price
R$ 2.160,00
Original price
R$ 2.160,00
Current price
R$ 1.812,00
R$ 1.812,00
-
R$ 1.812,00
Current price
R$ 1.812,00
Small but very powerful underwater strobe. The same level of basic features and durability as the D-2000 and marvelous high performance are driven with its compact body. Together with powerful and substantial Guide Number 20, the S-2000 benefits you with fast recycle time (minimum 1.5sec. at full flash) and remarkable flash capacity thanks to less inner wiring and efficient component parts. In addition to reliable and super accurate S-TTL Auto mode mode, 12 step Manual mode supports professional lighting. Other features include the EV. Controller to make fine adjustment when shooting in S-TTL Auto and auto-switching function to accommodate to various pre-flash type (single or double pre-flash) digital camera.
The "S-2000" strobe is equipped with a connector mount on the front side to receive TTL signal of the strobe. One "S-2000" strobe can be linked to maximum two strobes via optical cables and operate them in S-TTL Auto mode. This optical cable system benefits you to add S-TTL Auto operating strobe easily by connecting with an optical cable to pick up S-TTL control signal is piched up from your camera system. This expandability makes underwater studio with perfect lighting real.
The strobe can be attached to the ball-arm system using either Inon Z Adapter MV or Inon Z Adapter II . The strobe can be attached to Y-S arm system (Sea & Sea) using Inon Z-Joint or Inon quick-connect Holder Set S-Z.
Circular 110 degree beam coverage with a diffuser
Precise "S-TTL" mode & 12 step "Manual"
Guide Number 20 without a diffuser, 

17 with supplied -0.5 White Diffuser

Built-in EV. Controller to fine-tune S-TTL Auto exposure
Connection: 

Wireless connection / Optical D Cable / Optical D Slave Cable

Minimum recycle time of 1.5 seconds at full flash
Diameter: 64mm / 2.5in. Height: 83.1mm / 3.3in. Depth: 106.5mm / 4.2in.(Including Slave Sensor and Arm Base)
Weight [air] 295g / 10.4oz (without batteries) 
Depth rating 

100m / 328ft

Package Content: 

-0.5 White Diffuser, Magnet, Magnet Screw, Spare O-ring (Battery Box), INON Grease, Wireless Connection Kit