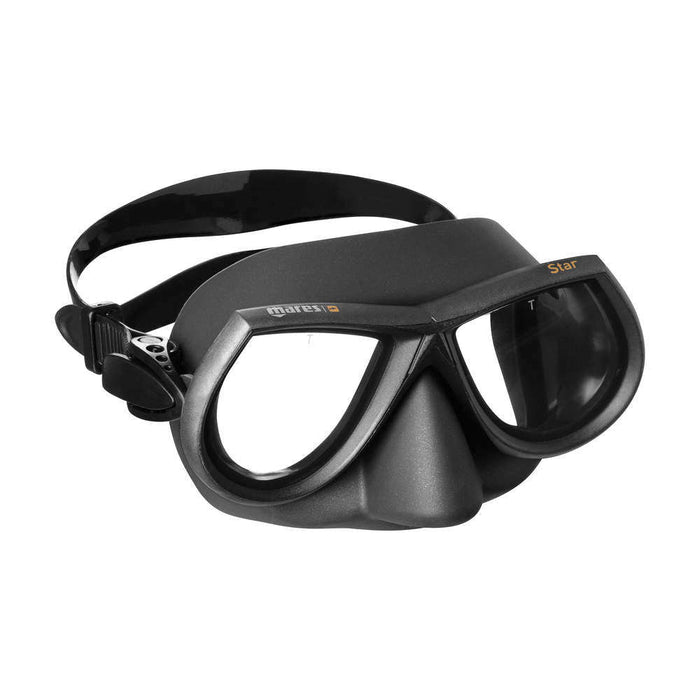 Mares Star Low Volume Mask, Black
Original price
R$ 584,00
-
Original price
R$ 584,00
Mares Star spearfishing and scuba diving mask has a bi-silicone face piece and strap .
The internal volume of the mask is minimal, and the distance between lens and eye is reduced. The buckles are low profile and are positioned on the skirt. The mask guarantees a wide field of view.
The Star Mask has a dual tempered safety glass lenses, a double feathered edge black silicone rubber skirt and wide split mask strap that combined for comfortable fit and great seal on the face. Mask is equipped with an easy to reach nose pocket that allows one handed ear equalization even when wearing gloves. Mask comes with a mask box.
The following are the key features of the Star spearfishing mask:
Minimum internal volume
Reduced distance between lens and eye
Extremely wide field of vision
Low profile buckles positioned on the skirt
Created Specifically-for-Spear-Fishing and Free-Diving
Smallest-Possible Volume from Angled-Lenses
New Types of Silicone: Helps Eliminate Undesirable-Fogging
Dual-Button Ergonomic Buckles for Easier Adjustment of Strap
Mono-Silicone Skirt
Dual Tempered Safety Glass Lenses
Double Feathered Edge Black Silicone Rubber Skirt
Wide Split Mask Strap
Skirt and Strap Combined for Comfortable Fit & Great Seal on Face
Easy to Reach Nose Pocket for One-Handed Ear Equalization