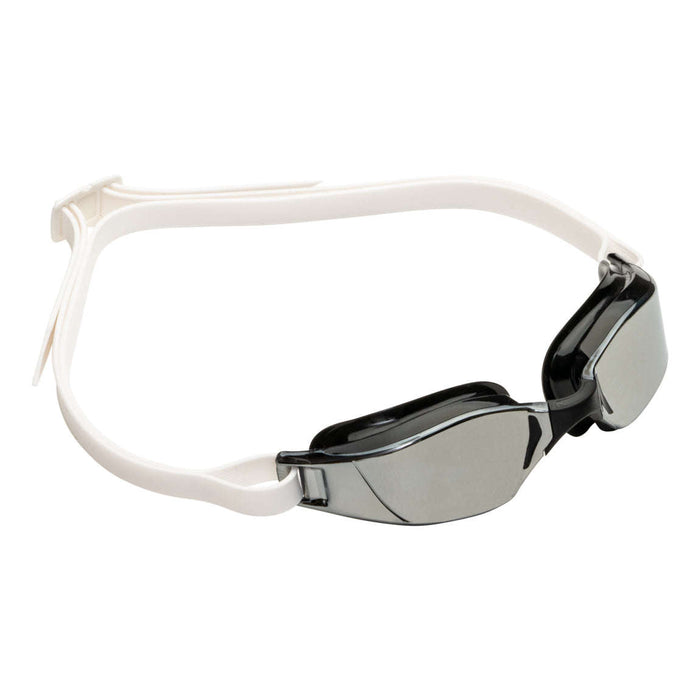 XCEED Titanium Mirrored Lens Swim Goggles, Black & White, 192270
Sold out
Original price
R$ 249,00
-
Original price
R$ 249,00
Aqua Sphere XCEED Titanium Mirror Goggles, Black and White

Aquasphere XCEED competition goggle (formerly sold under Michael Phelps MP brand) combines patented curved lens technology and a hydrodynamic low profile fit to give swimmers a competitive edge in perfect clarity. Featuring Exo-Core technology, for maximum comfort, durability and flexibility, the XCEED is a popular Racing and Training partner of many competitive swimmers. In addition, the XCEED Titanium Mirror is further enhanced with a layered titanium metal coating for enhanced sun and glare protection.
Model 192270 / EP3030109LMS

Titanium Mirror Lens
Titanium Mirror Lens have enhanced sun and glare protection for maximum visibility in outdoor conditions. The lens provide maximum light protection while boosts color contrast.

"The XCEED goggles are the best goggles that I have ever worn – they are super comfortable and the vision is insane. The ability to see so clearly with incredible peripheral vision allows me to see the wall and other swimmers underwater unlike ever before."
– Michael Phelps
"With these goggles, we took it to the next level. Elite performers will want to wear it, particularly due to the curvature and the range of vision. You're getting almost 180 degree vision, which is really important when you're racing. You want to have that peripheral sight. And the clarity of it--because of the patented curved lens design--is better than anything I've ever seen." - Coach Bob Bowman
"I can see 2 or 3 lanes over. I've never worn another goggle like it." - Michael Phelps
Patented curved lens for expanded field of vision allows the swimmer to sight walls and the competition without altering head position

Engineered with Exo-Core technology, which combines two materials for maximum performance

Compressed Micro-Gasket made of ultra soft Softeril provides a leak resistant seal and a low profile design

Four (4) interchangeable nose bridge

Semi-rigid exoskeleton maximizes the structural strength and stability of the goggle

Hydrodynamic, low-profile head buckle for quick adjustments

High-quality, low-profile Silicone strap with textured grip effect

Anti-fog and Anti-scratch treated Polycarbonate lenses

Ergonomic, easy to replace, interchangeable nose bridge for a customizable, comfortable fit

Designed and manufactured in Italy

FINA approved
The replacement strap for Aqua Sphere XCEED Titanium Mirrored Lens Goggles, Black/White is available here