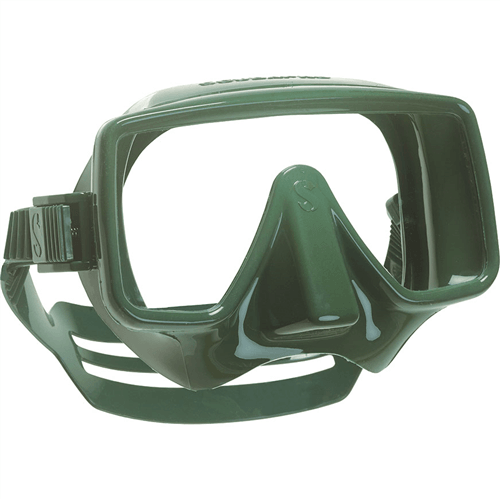 Scubapro Frameless Single Window Scuba Mask, Army Green
Sold out
Original price
R$ 881,00
-
Original price
R$ 881,00
Scubapro's Frameless Single Window Mask is diving's original frameless mask, and it's still the best. Now it is available in attractive Army Green color. Its distinctive rectangular single lens shape is classic, providing an excellent field of view on the periphery as well as straight ahead.
The soft silicone skirt on the FRAMELESS is comfortable yet durable, and the double-edge seal feels good against the skin. The push-button buckle system is easy to use and allows for quick adjustments. Buckles attach to flexible tabs on the skirt; this optimizes strap angle when dialing in fit. The wide headband spreads the load on the back of the head, greatly enhancing comfort.
After decades on the diving scene, the original FRAMELESS continues to be the mask of choice among professional divers throughout the world. With its excellent field of view and comfortable fit, this stellar mask is destined to maintain its dominant position on the cutting edge of diving well into the future.
Frameless single-lens design provides an expansive field of view while reducing volume.
Soft silicone skirt uses a double-seal system for a comfortable, leak-proof fit.
Traditional buckles attach to the skirt, enabling the mask to be folded flat for traveling..
Wide headband allows for a comfortable fit against the back of the head.