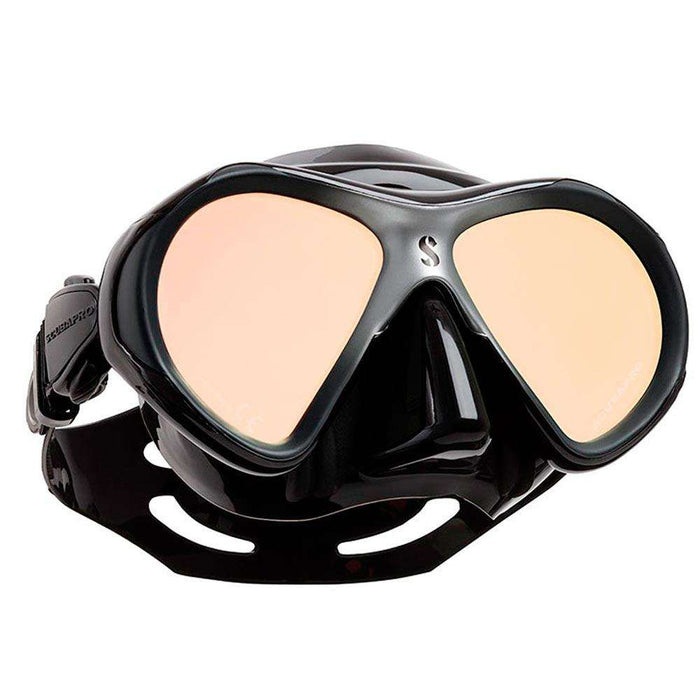 Scubapro Spectra Mini Scuba Mask, Mirrored Lens
Original price
R$ 601,00
-
Original price
R$ 601,00
FULL OF FEATURES IN A DOWN-SIZED DESIGN

Young or small divers don't have to miss out on Spectra colors and comfort.
Not every face can wear a full-sized Spectra. That's why SCUBAPRO offers the SPECTRA MINI, also available with mirrored lens. This compact mask offers all of the comfort and performance features of the standard Spectra in a scaled-down size to cater to small or narrow faces.
The dual lens SPECTRA MINI offers a wide view and a comfortable water-blocking seal, plus it features a low-volume design for easy clearing. It uses a smart double-sealed silicone skirt for optimum comfort.
In addition to comfort, the SPECTRA MINI's buckle and strap system is easy to use. Buckles that attach to the skirt adjust easily, optimize strap angle and range of motion for achieving that perfect fit, plus they enable the mask to be folded flat for easy packing.
Mask skirts are available in both clear and black, depending on frame color selected, and an exclusive paint process plus a choice of colors turns the SPECTRA MINI into stylish eyewear as well as a comfortable, dependable dive mask.
Compact, dual lens design is low volume for easy clearing plus offers maximum field of view.
Ultra-clear no-tint glass delivers optimal clarity under water.
Lenses are made from tempered glass for safety and long-term durability.
Mirrored Lens
Universal skirt design is super comfortable and fits a variety of face shapes.
Buckles attach to the skirt and adjust easily to achieve a perfect fit.
EZ Equalize nose pocket makes simple work of equalizing.
Mirrored lens option delivers a glare-free view of the underwater world.
Bold frame colors include stylish duotones.
Note: Painted finish may be damaged if cleaned with abrasive products.