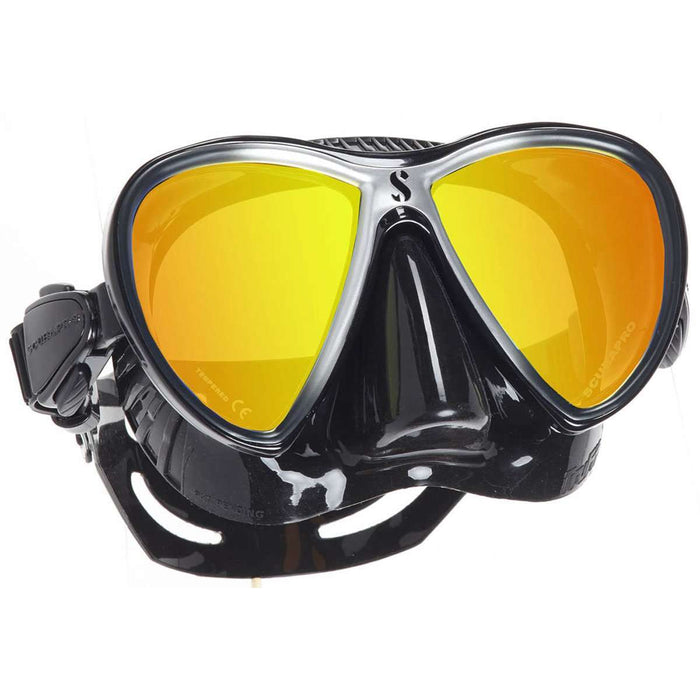 Scubapro Synergy Twin Mask, with Mirrored Lens and Comfort Strap, Black/Silver
Original price
R$ 989,00
-
Original price
R$ 989,00
Scubapro Synergy Twin mask features a mask skirt with thicker, firmer silicone near the mask frame to provide support and rigidity, and thinner silicone contouring the face for comfort and to ensure a watertight seal. It's an effective combination that delivers a truly unique fit and seal. In addition to comfort, the SYNERGY TWIN TRUFIT's dual lens design is low volume and provides excellent field of view, and its buckle and strap system is easy to use. The rotating buckles attach to tabs on the skirt rather than on the frame. This optimizes strap angle and range of motion when dialing in fit, plus it enables the mask to be folded flat for easy packing.

Synergy 2:
New generation design features two separate silicone skirts. The main skirt is thin and soft to provide the best possible fit, seal and comfort. The outer skirt is thick to provide support and rigidity near the mask frame.

TRUFIT TECHNOLOGY
This revolutionary skirt design forms a watertight seal on virtually any face, allowing divers to have a secure mask without sacrificing comfort. Trufit skirts are designed with the highest quality silicone and are identifiable by their unique ribbing texture..

Ultra-Clear is a new and exciting Optical Quality Tempered Glass with Exceptional Clarity and High Light Transmission, with No Color Distortion. The Exceptionally High Light Transmittance and Lack of Distortion in the Ultra-Clear Lens Maximizes the Light available for Improved Visual Acuity, especially Underwater in Low Light Conditions, Better Vision, Truer Colors is what you get with Scuba Pro's Ultra-Clear Lenses. The Mirrored Lenses also provide protection against Glare when on the Surface making this one great Visual Experience for the new to the most experienced divers. The Mask comes with a Protective Mask Box and is covered by a 12 month limited warranty.

Features:
Main skirt offers a thin and soft silicone material for the best possible fit, seal and comfort against the skin.
Silicone contouring the face is thinner, providing a pliable, comfortable and watertight seal.
Rotating buckles work with a micro-adjustable strap to achieve a comfortable, watertight fit.
Buckle tabs are flexible, enabling the mask to be folded flat for traveling.
Will accommodate the mask mount for the new Galileo HUD hands-free dive computer.
Comes with comfort strap.