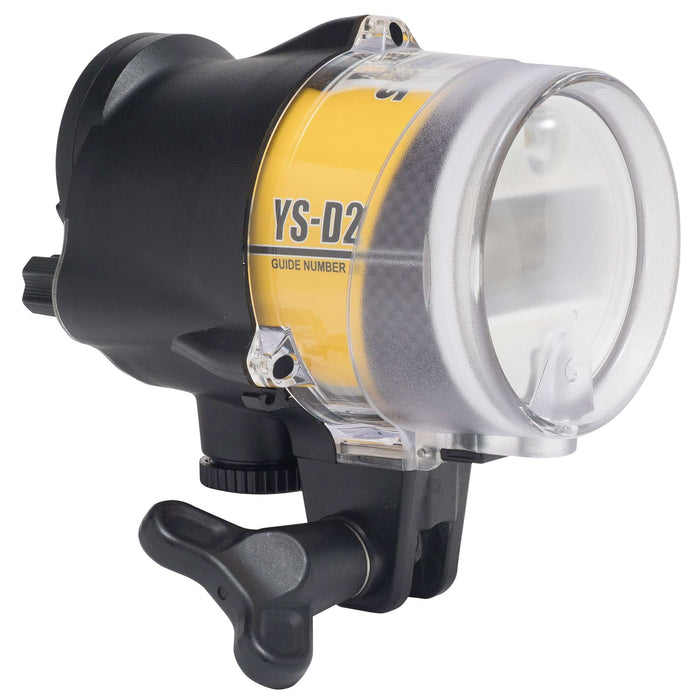 Sea & Sea YS-D2j Strobe (Yellow)
Sold out
Original price
R$ 3.481,00
-
Original price
R$ 3.481,00
R$ 3.481,00
-
R$ 3.481,00
Current price
R$ 3.481,00
The complete underwater strobe which realizes power, speed and quality.
Create the underwater images in rich, natural color with the yellow YS-D2J Underwater Strobe from Sea&Sea. It features a guide number of 104' / 32 m on land at ISO 100. The flash has a beam angle of 80 x 80°, which is widened to 100 x 100° with the Diffuser-100 and 120 x 120° with the Diffuser-120. A daylight-balanced color temperature of 5600K enables the strobe to restore colors that are absorbed underwater, thus allowing for more vibrant and accurate images.
Maximum guide number is a powerful 32 (ISO 100, meter). Recycle time is only 1.5 sec when nickel hydride AA batteries are used.
The YS-D2 is powerful enough to illuminate a wide area, even under very bright conditions with plenty of natural sunlight. During macro photography, where subtle exposure control is required, manual mode can easily be selected and the guide number quickly adjusted as low as 1.
DS-TTL ll automatic exposure control with improved accuracy and stability
SEA&SEA's own automatic exposure control system, DS-TTL ll, has been further improved. Tuning light emitting timing in detail and adding light emission detection function, the accuracy of automatic TTL exposure has been noticeably improved. Previously, TTL photography was difficult with the lens's aperture wide-open (maximum aperture) and images were likely to be overexposed. It is now possible to give a low powered flash so the correct exposure can be easily achieved with the YS-D2.
EV control function can finely tune the amount of light emitted
By controlling the actual flash light level, the strobe achieves accurate exposure compensation with EV compensation. As the exposure compensation range has improved to +/- 2.0 EV, users can concentrate on shooting even more creative images. (-2,0EV, -1.5EV, -1EV, -0.7EV, -0.3EV, +0.3EV, +0.7EV, +1EV, +1.5EV, +2.0EV).
Two diffusers and red filters included with the strobe as standard
By attaching one of the included diffusers, the beam angle is increased to 100o or 120o (circular) with a soft and even light. The red target light filter helps avoid disturbing skittish creatures that are likely to react to normal light. The red filter is fitted inside the diffusers.
Excellent night-time visibility. The illuminated control panel is ideal for night diving
Color of illumination changes to indicate mode: aqua blue (in DS-TTL mode), blue (in slave TTL mode), orange (in manual pre-flash mode) and Green (in manual mode without pre-flash). You can check which mode the strobe is set even under pitch-black conditions.
The target light can be adjusted in 2 steps
The strobe is equipped with a target light (approximately 100/300 lumen). In use (target light switch in ON position), the light will be automatically turn off when the strobe fires and will automatically turn back ON after 0.5 sec.

Attaching the YS-D2
The strobe can be attached to an arm with the YS-mount or the ball-mount (both mounts included as standard accessories).
Specification:
Guide Number (ISO 100/m) (land) : 32, 24 (with Diffuser 100 attached), 20 (with Diffuser 120 attached)
Beam Angle : 80°x80° (without Diffuser), 100°x100°(Diffuser 100), 120° x 120° (Diffuser 120)
Batteries : 4xAA A: 6V Ni-MH: 4.8V
Number of Flashes : A: 150 Ni-MH: 200 (depend on battery used)
Recycle time (full)  : A: 3.0 sec. Ni-MH: 1.5 sec.

(depend on battery used)

Color temperature : 5600K
Color temperature w/diffuser : 5250K
Depth rating : 100m / 330ft
Dimensions (WxHxD) (Excluding protruding part(s) and the arm holder.): 89x133x116mm / 3.5 x 5.2 x 4.6 inches (incl. YS base but excluding protruding parts)
Weight : 623g / 22.0oz (w/o batteries) (inc. YS-mount and fixing bolt. Without batteries)
Underwater weight : Approx.+40g / 1.4oz (incl. batteries)
Others
Exposure control: DS-TTL II, Slave TTL, Light level control dial (GN): 1 / 1.4 / 2 / 2.8 /4 / 5.6 /8 / 11 / 16 / 22 / 32 (11 steps)
Pre-flash control: Equipped with pre-flash cancel mode
DS-TTL II function
Slave function
Auto power OFF function
Sync cord: 5-pin Sync cord/N, Fiber-Optic Cable
Over-pressure relief valve
LED target light (output is adjustable in 2 steps)
Audible charge signal
Made in Japan