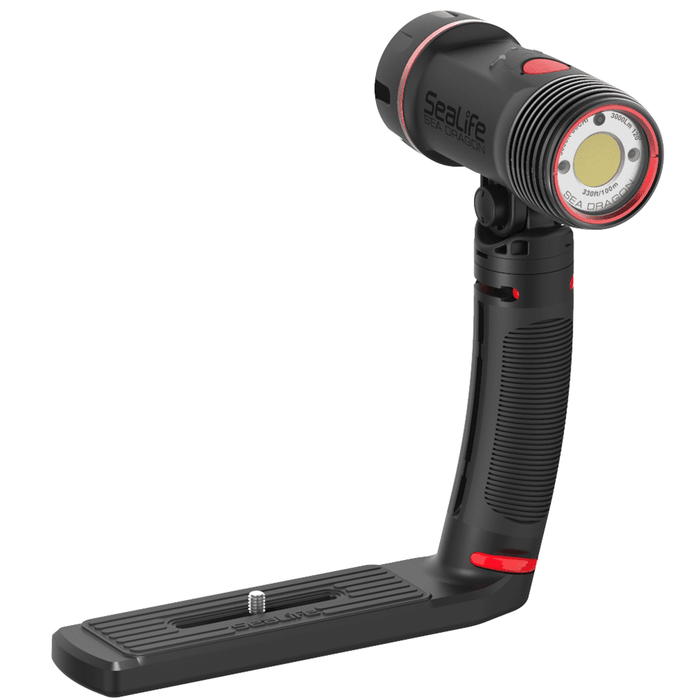 SeaLife Sea Dragon 3000F Auto COB LED Photo-Video Light Kit
Original price
R$ 2.555,00
-
Original price
R$ 2.555,00
R$ 2.555,00
-
R$ 2.555,00
Current price
R$ 2.555,00
Sealife Sea Dragon 3000F is the most powerful photo-video light in its size/weight class, delivering 3000 lumens in an even 120° wide beam.  The 3000 features SeaLife's Auto Brightness, Flash Detect and two red LEDs for night diving. Each 3000 lumen light head is automatic, this means it will cancel for a brief moment when a flash or strobe is used, and can also be set to automatic brightness adjustment based on distance to the subject. The Sea Dragon 3000F includes two 180 lumen RED LEDs allowing you to navigate in darkness without frightening elusive fish and animals, the red LEDs can also be set to auto flash/strobe mode.

The Sea Dragon 3000F emits a warm 5000K color temperature and 80 CRI (color rendering index) adding vibrant colors and brightness to your underwater pictures and videos.
Lights Features:
Powerful 3000 lumens featuring BridgeLux Gen 7 Vero COB LED Array.
Auto Bright mode adjusts from 300 to 3000 lumens to preserve your eye's natural night vision and extends battery life.
Auto Flash Detect mode*.  Light turns off for 1 second when detecting external flash. Flash detect can be turned on or off. Flash detect works in all 5 light modes.
One button control for easy operation. One button to power light on/off and select brightness.
Five Light modes: 3 white modes (Manually adjust to 100%, 50% or 25%), 1 white Auto (Automatically adjusts from 10% to 100%) and 1 Red light mode.
60 minute burn time at full power.
Constant brightness – Regulated circuitry so light won't dim with battery power.
80 Color Rendering Index (CRI) that mimics natural daylight.
Easy to expand with Flex-Connect™ trays, grip and flex arms.
120° wide beam angle evenly illuminates the subject with no hot spots. 90° underwater.
Emergency mode emits blinking light or SOS signal to alert others of distress. Activated by holding down power button for 5 seconds from power off state.
Depth rated to 330 ft (100m).
Corrosion-proof metal light head for heat dispersion and durability.
Removable 25Wh 3400 mAh Li-Ion battery w/ charger and international plug adapters included.
Waterproof battery compartment protects internal electronics even if light accidentally floods.
Protective circuitry – The light and battery feature integrated protective circuits that cuts power in the unlikely event the light overheats or short circuits.
Safety pressure release valve – one-way waterproof valve releases battery compartment pressure in the unlikely event of battery malfunction.
What's included in the box:
Sea Dragon 3000 UW Photo-Video Light head
Flex-Connect single tray
Flex-Connect grip
25Wh 3400mAh Li-ion rechargeable battery
AC Power Adapter
Charging tray
Int'l plug adapters
Spare O-rings
O-ring lubricant
O-ring removal tool
Adapter for GoPro® Cameras
Sea Dragon Case