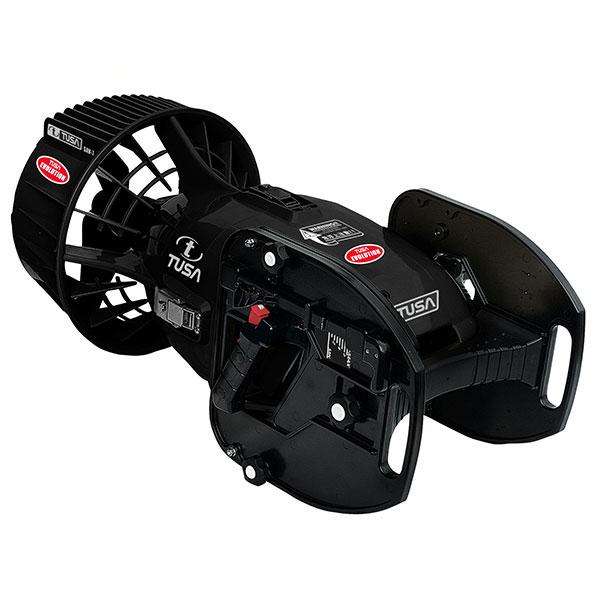 Tusa SAV-7 EVO2 Scooter DPV (Diver Propulsion Vehicle)
Sold out
Original price
R$ 20.018,00
-
Original price
R$ 20.018,00
R$ 20.018,00
-
R$ 20.018,00
Current price
R$ 20.018,00
Free your hands with the TUSA SAV-7 EVO2 Scooter.
The SAV-7 EVO is TUSA's latest underwater vehicle. Improving upon the highly popular SAV-7 EVO, the EVO2 has several upgrades that make it THE scooter to dive.

Progressive Acceleration System:
The EVO2's newly upgraded design rotational speed adjustment function allows for precise changes to your speed while in motion. This easily activated speed adjustment results in smooth effortless riding and allow for easy synchronization of speed between divers in a variety of geographical areas and varied current conditions. The upgraded Variable Speed Control is at your fingertips for a greater diving experience while giving you complete control of speed.

L.E.D. Battery Indicator:
When the main power switch is turned on, the L.E.D. battery life indicator lights up providing the diver with a guide to remaining battery life.

3 Speed Propeller:
Additionally, it's possible to easily vary the propeller's angle or pitch by 3 positions, which allows for even more fine-tuning of the scooter's speed to the individual diver's needs.

Hands-Free Riding Saddle:
By using the wings it's now possible to pull 2 more divers with the EVO scooter. The diver's different physiques when holding onto the wings have virtually no effect to the scooter's performance. The speed and distance with 3 men diving are almost the same as using the scooter solo without a saddle. With the newly designed rotational speed adjustment function and hands-free riding style, the TUSA SAV-7 EVO2 decreases fatigue, reduces air consumption, and allows a diver to go further and faster in a variety of conditions while extending their time in underwater.

The EVO2 scooter ha 10% more torque the its predecessor the SAV-7 EVO, increased usage of 120-muintes run time on the 20Ah (DC25.6V) lithium ion battery. The EVO2 scooter has an increased cruising range of 4.5 miles (7,200 meters) and a maximum speed of up to 2.8 mph (4.5 km/h). The scooter is negatively buoyant -8 oz. (226.8 g) with a depth rating of 230' (70 meters). The scooter measures (L x W), 28.5" x 13.5" (720mm x 340mm), weighs 45 lbs. (20 kg) on land with a durable ABS resin plastic body. The included charger has an input voltage rating of AC100 to 240 Volts 50 to 60Hz. The scooter comes with a comprehensive owner's manual of instruction for use and maintenance. Scooter has a built-in safety device, Sensation Current Shut-Down Device, Water Leakage Sensor, and Water-Cooling Motor Deployment.
Specification:
Progressive Acceleration System:
Rotational Speed Adjustment Function
Allows Precise Changes to Speed
Easily Activated Speed Adjustment
Smooth Effortless Riding
Easy Synchronization of Speed between Divers
Great for Variety of Geographical Areas and Varied Current Conditions
L.E.D. Battery Indicator
3 Speed Propeller: Easily Vary Propeller's Angle or Pitch
Saddle Wings: Pull 2-More Divers with EVO Scooter
Hands-Free Riding Saddle
10% More Torque the Predecessor the SAV-7 EVO
120-Muintes Run Time on 20Ah (DC25.6V) Lithium Ion Battery
Increased Cruising Range: 4.5 miles (7,200 meters)
Maximum Speed Up to 2.8 mph (4.5 km/h)
Dimensions: (L x W), 28.5" x 13.5" (720mm x 340mm)
Weight (on land): 45 lbs. (20 kg)
Buoyancy: Negative -8 oz. (226.8 g)
Depth Rating: 230' (70 meters)
Durable ABS Resin Plastic Body
Includes Battery and Charger
Charger Voltage: AC100 to 240 Volts 50 to 60Hz
Comprehensive Owner's Manual of Instruction