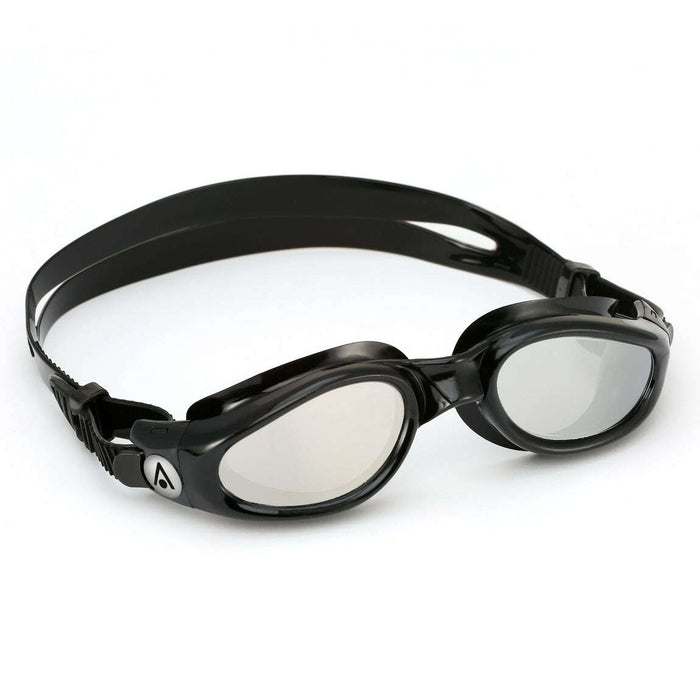 Aqua Sphere Kaiman Silver Titanium Mirror Swim Goggles, Black, 192640
Original price
$29.39
-
Original price
$29.39
The Aqua Sphere Kaiman Unisex Goggle, Black with Silver Titanium Mirrored Lens is a work of art in underwater visibility. Its superior design and styling make it a unique piece of eye wear. The gasket is made from Softeril, a soft and comfortable, synthetic, hypoallergenic material which ensures that the wearer need not worry about any skin reactions to the product. This material is long-lasting and retains shape quite well over time, thereby making the goggles a good one-time investment. Complete UVA and UVB protection is provided by the amber lens which comes with scratch-resistant and anti-fog coatings. Plexisol, the material used to make the lens, allows better vision than glass. At the same time, it is lighter, more resilient, and impact-resistant than glass. An easy-adjust buckle system coupled with wide straps makes the goggles easy to wear.
The Silver Titanium Mirrored Lens deliver maximum contrast and enhances warm colors in full sun while eliminating reflective glare. Perfect lens to spot the buoys out on the open water.
The Lenses are made of PLEXISOL a Proprietary Material used in the Manufacture of Lenses that Compared-to-Glass offers Superior Transparency, 1/10 the Weight, and is 20 times as Resilient. It has High Impact Resistance and thus provides a Significant Safety Protection of the Eyes. Goggles are equipped with an Easy-Adjust Lever Buckle System with a Wide Silicone Strap for a Comfortable Fit. Goggles are Latex Free and are covered by a 12 month limited warranty.
Made in Italy
Curved Lens Technology with 180-degree field of vision
Advanced Fit Technology (AFT) increases seal integrity and comfort
EZ Adjust buckle Allows for quick and easy fit adjustment
EXO-Core Technology with Softeril gaskets
UV Protection
Lightweight Plexisol lenses with anti-fog and anti-scratch treatments
Silicone split strap provides long-lasting comfort while keeping your goggles in place
Latex free, hypoallergenic
Model 192640

Lens Features - Titanium Mirrored Lens have enhanced sun and glare protection for maximum visibility in outdoor conditions.
Silver Titanium Mirrored

Maximum Light Protection
Boosts Color Contrast
Infra red cut
Condition: outdoor, sunny, extreme bright light
The replacement straps for Aqua Sphere Kaiman goggles are available here