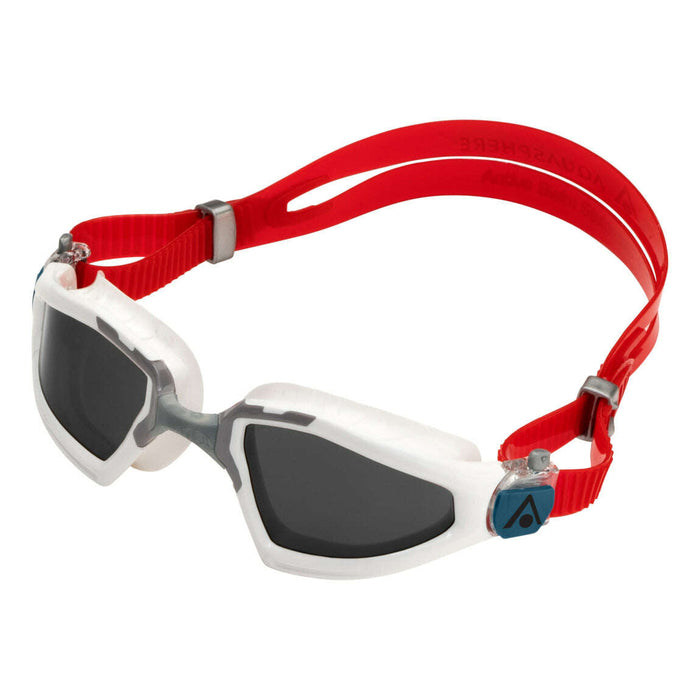 Aqua Sphere Kayenne Pro Photochromatic Lens Swim Goggles, White/Silver/Red
Original price
$49.95
-
Original price
$49.95
Aqua Sphere Kayenne Pro Photochromatic Lens swimming goggles offer advancements in lens technology, increased field of vision and an adjustable nose bridge to ensure a custom fit for all faces. Manufactured in Italy, the Kayenne Pro goggle features Aquasphere's proprietary curved lens technology providing exceptional 180° wide peripheral vision and increased upper visibility by 18%, lateral visibility by 8% and lower visibility by 32%.
The Kayenne Goggles have an updated one-touch buckle with silicone rubber strap which makes fitting easier than ever. Goggles have a stabilizing nose bridge that stays secure and comfortable during your entire workout. Pair these new technologies with Aqua Sphere's standard UV protection, leak resistance, anti-fog and scratch resistant lenses, and the Kayenne is easily the most superior performance swim goggle available.
Curved Lens Geometry: 180° wide peripheral vision
AFT: provides a leak resistant seal
Adjustable nose bridge: 4 interchangeable size options for a perfect fit
Quick-fit buckle: easy one-touch adjustment for perfect fit
Oversized Plexisol lens: increase upper visibility
Wide Gasket: improve stability
Silicone Strap for maximum comfort
Anti-scratch and anti-fog treated
Hypoallergenic
Made in Italy
Model 192130
Photochromatic lenses adapts automatically to changing UV light conditions. They provide protection against sun and glare when worn in brightly lit outdoor conditions, and then return to a transparent state when the wearer moves back indoors.
Photochromatic Lenses

Adapts to all conditions
Changes with level of UV
Increased light protection
light transmission : 25% - 78%