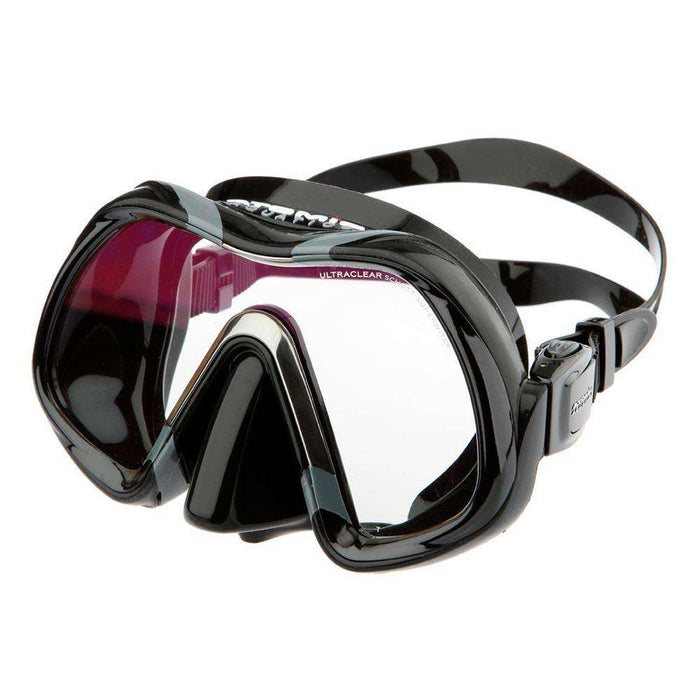 Atomic Aquatics Venom ARC Scuba Mask
Original price
$279.95
-
Original price
$279.95
The Venum ARC Mask has all the features of the Venom masks plus an Anti-Reflective Coating which allows more light to enter the mask and reduce light reflection. This makes seeing through the mask better above and below the water. Atomic Aquatics developed ARC (Anti-Reflective Coating) Technology to Reduce Reflected Light and actually Increase the amount of Available Light Transmitted to a Diver's Eyes. The result is a greatly Improved transmission of 98% of available light, compared to a loss of more than 14% of light with standard green "float" glass used on the majority of masks on the market. Anti-Reflective Coatings or ARC" is a Multi-Layer Metal Oxide Coating Process applied to both sides of the Ultra-Clear Lenses. This allows more light to enter the mask by reducing light reflections off the inside and outside surface of the lens. The Metal Oxide Coating is only a few microns thick.
ARC will give you clearer, crisper vision. You will see more clearly underwater and objects in the distance will become more defined and acute. ARC also increases contrast and clarity, reduces eyestrain, glare, and prevents ghost Images on the viewing area of the lens. ARC is an absolute must for night diving, limited visibility conditions, and underwater photographers.

As with all Atomic Aquatic masks, the Venom has a double feathered edge silicone rubber skirt with a wide split strap design, which in combination, afford an excellent fit and seal on the face. A one-handed nose well for easy ear equalization brings the lens of the mask closer to the diver's face further increasing the field of vision. The Venom comes with a mask box has a limited lifetime warranty on the frame and a 12 month limited warranty on the buckles and mask skirt.