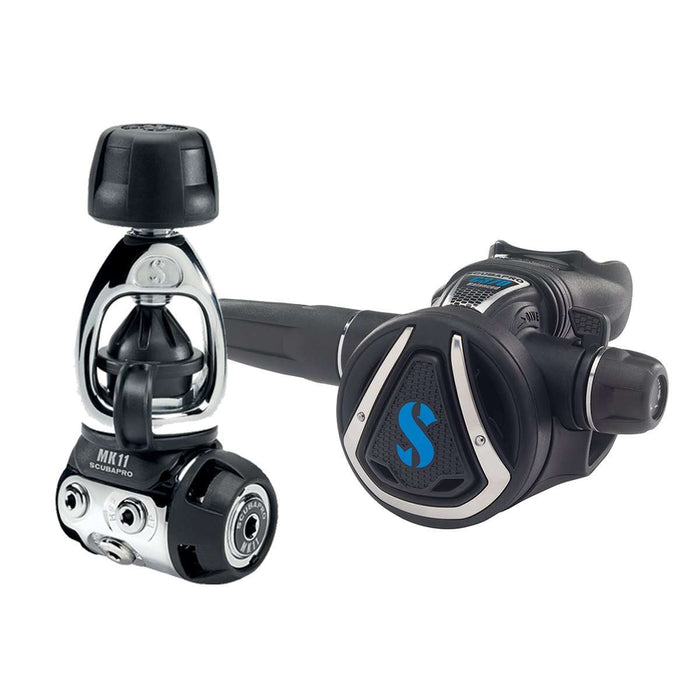 Scubapro MK11/C370 Regulator, Yoke
Sold out
Original price
$639.00
-
Original price
$639.00
Scubapro MK11/C370 is a compact and lightweight travel regulator. The first stage is balanced diaphragm MK11, with its chrome-plated brass body specially designed to reduce size and weight. Scubapro MK11 first stage is environmentally sealed so that water cannot enter the inner mechanism. The first stage comes standard with the Thermal Insulating System (TIS), which keeps your first stage from freezing up and malfunctioning in cold water conditions. Additionally, its over-balanced diaphragm first stage design gives you better breathing performance at greater depths. First-Stage Regulator is equipped with two 7/16" threaded HP and four 3/8" threaded LP Ports. Two of the LP Ports are High Flow Ports (HFP) for easier breathing on demanding dives.
The new Scubapro C370 second stage brings forth the best features of its predecessor, the C350, while adding a balanced valve to its design. Its new exhaust tee, based on the S620 Ti's design, contributes to a 10% improvement in work of breathing over the C350. A compact hi-flow mouthpiece, also borrowed from the S620 Ti due to positive feedback, has been added to increase both airflow and mouth comfort. Fully adjustable, the C370 includes a user adjustable inhalation effort control knob along with a small coaxial dive/pre-dive lever. The new air balanced C370 is lightweight, breathes easy, offers full user controls and delivers effortless airflow.
With this regulator system in your dive bag you'll be ready to hit the water.
Air-balanced diaphragm first stage design delivers constant and effortless airflow unaffected by depth, tank pressure, or breathing rate.
Marine grade brass body has sealed internal parts to prevent water and pollutants from fouling the inner mechanism while enhancing cold-water performance.
Two high pressure, two low pressure and two high-flow LP ports maximize hose routing options.
External intermediate pressure adjustment enables technicians to fine-tune performance quickly and easily.
Air-balanced second stage valve smoothes out the inhalation effort at varying depths and supply pressures.
Compact second stage fiberglass reinforced nylon casing with new exhaust tee takes up little space in a dive bag.
User controls include a diver-adjustable inhalation effort knob and coaxial dive/pre-dive lever.
Large purge button is easy to activate, even wearing thick gloves.
Super-flow hose features an oversized bore that allows more air to flow on each inhalation.
Compact Hi-Flow mouthpiece improves airflow as well as mouth comfort, fitting all mouth sizes.
Balanced Second Stage Design
Diaphram First Stage Type
Water Temperature Cold, Temperate, Warm
Connector Type Yoke
Nitrox Mix Up to 40%
Environmentally Sealed
Cold Water: Anti-Freeze Protection & Dry Chamber
1st Stage Materials Chrome-Plated Brass
2nd Stage Materials Metal/Reinforced Technopolymer Casing