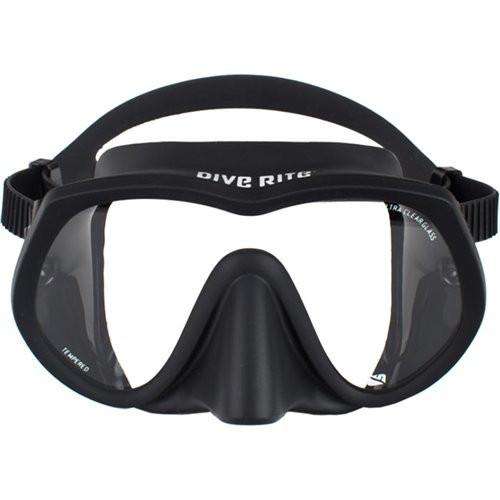 Dive Rite UltraClear Frameless Mask
Sold out
Original price
$79.00
-
Original price
$79.00
Dive Rite UltraClear Frameless Mask has the wide angle of vision provided by the single lens and by not having the frame of the mask over the nose substantially increases overall underwater visibility. Seeing clearly underwater over the entire field-of-view is possible with the ES155's ultra clear glass in its lens design. The glass is also tempered for safety if it should ever break.
The ES155 performs throughout any length of dive by not only allowing you to see exceptionally well underwater, but to do so in superior comfort. A soft matte silicone body with a double silicone face skirt makes for a comfortable fit on almost any size or shape face. The low volume and comfortable nose pocket make is easy to clear water from as well as pinch the nose for equalization. Holding the ES155 in place couldn't be easier or more comfortable with the soft matte silicone strap and the easily adjustable mask strap buckles.
Included is a protective carry case that holds up even on the bottom of your dive bag. You don't have to worry about breaking a mask strap buckle or damaging the skirt when stowing it in its protective case.
UltraClear Iron-free glass
Soft silicone body with a double silicone face skirt
Single lens frameless design with wide angle of vision
Fits most standard-to-wide faces
Will accommodate facial hair and high brows