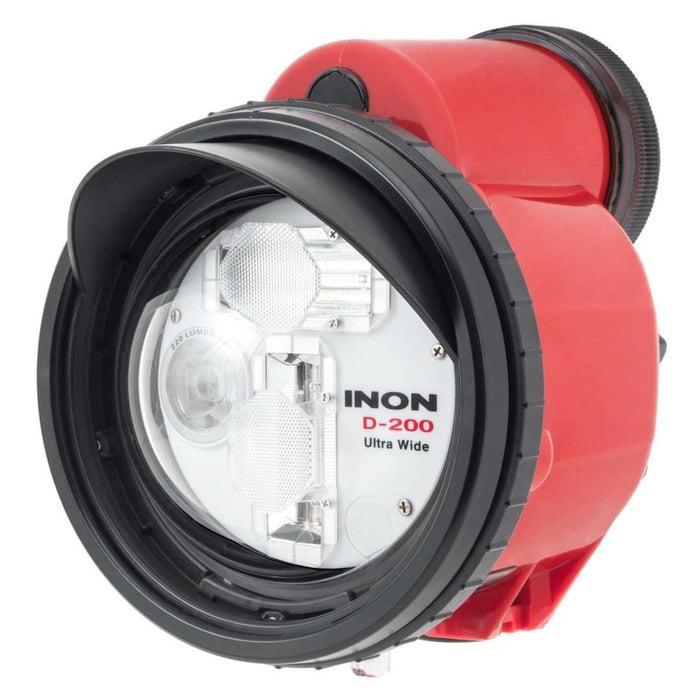 Inon D-200 Underwater Flash / Strobe
Sold out
Original price
$499.00
-
Original price
$499.00
Following latest features of the Z-330 strobe, the Inon D-200 is set to deliver maximum G.N. 20 and focus on optical trigger system. Built-in dome lens is optically designed to offer wide 110 degree coverage underwater without any diffuser which can sacrifice power. High performance, multi-function and friendly handling with lightest underwater weight supports your underwater photography with superior performance.
Expanded Underwater Coverage 110 degree by Dome Lens
Precisely designed front dome lens together with INON's unique patented "T-shape Twin Flash" successfully manages both powerful G.N. 20 and circular 110 degree coverage UNDERWATER without sacrificing any power. Without using a diffuser, the D-200 strobe is well designed to deliver high power and wide coverage
S-TTL Auto /13 Steps Manual Flash Mode
Proven and reliable INON's unique super accurate auto exposure system "S-TTL" Auto mode (patented) is onboard to support easy and solid underwater shooting with appropriate exposure.
In addition, optimized high performance slave sensor never miss camera's trigger signal even with faint signal or partially damaged fiber optics cable can still trigger the strobe not to bother you with unstable flashing.
Precise 1/2EV. increment 13 steps Manual flash control is onboard as well to support professional use where fine power adjustment is required to provide highly accurate lighting.
EV. Controller to Adjust Exposure of S-TTL Auto
It is simple to fine-tune flash power in S-TTL Auto by dialing the EV. Control Switch on the back control panel. Adjustable range is 3 steps to increase and 6 steps to decrease. It is easy and simple to suit to your intended exposure or different exposure control characteristics among camera models.
Bundled "Strobe Light Shade" to Prevent Shining Camera Lens
The "Strobe Light Shade" is bundled as standard accessory to cut a part of strobe light to benefit to dramatically suppress flare or ghost by not shining camera lens directly and backscatter when a strobe is positioned to vicinity or ahead of lens port by blocking light between lens port and subject not to shine suspended particles.
The flange part rotates 360 degree. Intuitive operation and comfortable adjustment is supported with light clicks even underwater while you shoot
220 lumen, Shutter Linked Auto OFF Focus Light
The Focus Light assists focusing in dark underwater without influence on an image by shutter-linked auto OFF feature . The strobe has 220 lumen LED to benefit you to use as independent diving flashlight as well.
The strobe can be attached to the ball-arm system using either Inon Z Adapter MV or Inon Z Adapter II . The strobe can be attached to Y-S arm system (Sea & Sea) using Inon Z-Joint or Inon quick-connect Holder Set S-Z.
110 degrees coverage UNDERWATER without diffuser.
Compatible Cameras Connection: Optical Connection (Optical D Cable, Wireless)r
Guide number 20
Bundled "Strobe Light Shade" to prevent shining camera lens
220 lumen, shutter linked auto OFF Focus Light
13-Step Manual Power Settings
Dimensions: Diameter: 102mm/4.0in, Hight: 131mm/5.2in, Depth: 125mm/4.9in (without Strobe Light Shade / Strobe Dome Filter SOFT)
Diameter: 111mm/4.4in, Hight: 131mm/5.2in, Depth: 129mm/5.1in (with Strobe Light Shade)

Minimum recycle time "approx. 1.3 sec." at Full Flash.

Weight: 577g/20.4oz (without Strobe Light Shade / Strobe Dome Filter SOFT / batteries)
729g/25.7oz (with Strobe Light Shade / 4 x "eneloop" batteries)
Depth Rated: 100 meters/328 feet
Strobe cover for added protection is available separately - Inon Front Cover 110