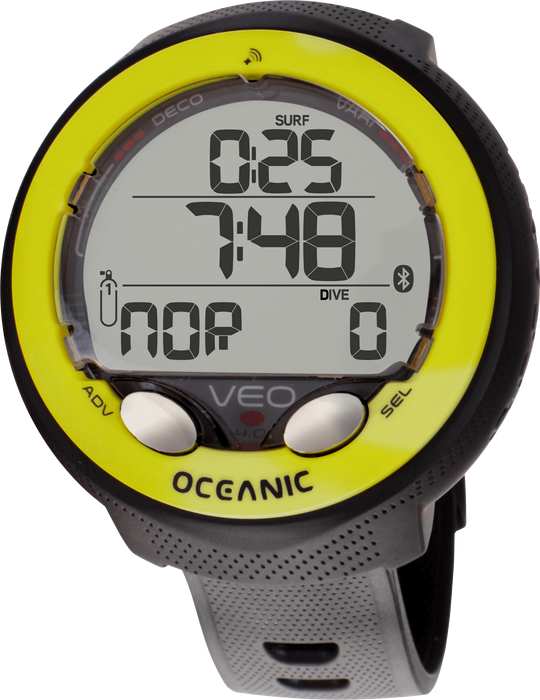 Oceanic Veo 4 Wrist Mount Scuba Computer, Yellow
Original price
$379.95
-
Original price
$379.95
Oceanic Veo 4.0 is an easy-to-use entry-level wrist mounted computer. Oceanic Veo 4.0is packed with advanced features including Bluetooth connectivity and integrated mobile experience through the DiveLog+ App. The Veo 4.0 connects with DiveLog+ mobile software via Bluetooth 4.0. Control your settings, view log and profile data, add locations, notes, and even share dives via email, Facebook and more. Whether you're on the boat, on the beach or in your home.

The Veo 4.0 is powered by Oceanic's Exclusive Dual Algorithm - lets you choose the decompression algorithm basis that best suits your diving needs without compromising safety. The dual algorithm allows you to choose from the Pelagic DSAT (Spencer/Powell data base) or Pelagic Z+ (Buhlmann ZHL-16C data base). Computer has 4 operating modes: Air, Nitrox, Gauge (with run timer) and Free (tracks calculations to allow switching between NORM and Free). 2 operating buttons allow step forward" and fast scroll" interface for streamlined access and setting of personal options. Deep stop with countdown timer May be turned on or off. Computer has a 2-minute countdown feature at half your max depth, for dives greater than 80' (25 meters). Computer is automatically altitude adjustable from 2,000 to 14,000' (610 to 4,200 meters) and has a variable ascent rate from 30 fpm to 60 fpm (9 m/min to 18 m/min). Operational depth readout is 330' (100 meters) with the gauge depth readout is 399' (120 meters)
Other features of the Veo 4.0 Computer are; Air or 3 Nitrox mix to 100% O2, Nitrox mixes can be in any order, 24-dive on unit log book, history mode includes total number of dives, 50-hour memory, max depth, total dive hours, and lowest temperature. Computer uses 12 tissue compartments for nitrogen absorption calculations (5 to 480 minutes), decompression capability 10' to 60' (2 to 18 meters), user replaceable CR2450 battery with a battery life of approximately 300 hours, can be set for metric/imperial units of measure, comes with a comprehensive owner's manual and much more! The Computer comes in a durable rubber impact resistant wrist boot and includes an owner's manual.
Specification:
Algorithm: Dual Algorithm: Pelagic DSAT (Spencer/Powell data base) or Pelagic Z+ (Buhlmann ZHL-16C data base)
Audible Alarms: Yes
Depth Display: Operating Depth (NORM/FREE): 330' (100 meters), Operating Depth (GAUGE): 399' (120 meters)
Altitude Adjustable: 2,000 to 14,000' (610 to 4,200 meters)
Operating Modes: 4-Air, Nitrox, Gauge and Free Dive
Back Light: Yes
Memory Capacity: 24 Dives, 50-Hours
Time, Date & Temperature: Yes
Imperial/Metric Display: Yes
Power: User Replaceable CR2450 Battery