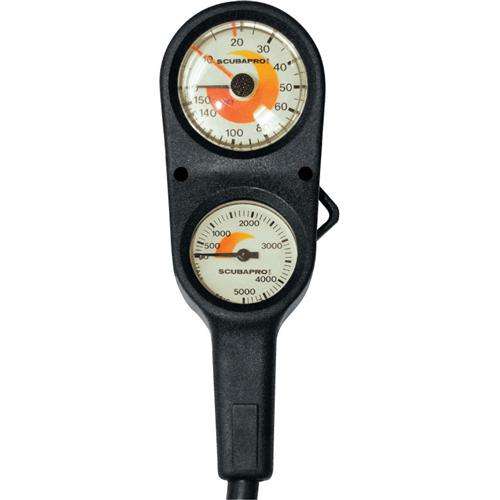 ScubaPro 2 Gauge Imperial Console
Original price
$239.00
-
Original price
$239.00
The Scuba Pro 2 Gauge Console is a Lightweight and Compact Console with a Durable Impact Resistant Boot that accommodates the Pressure and Depth Gauge's. The Scuba Pro 2 Gauge Console is great as a Primary or Back-Up Instrument for Recreational or More-Experienced Divers. The Boot is equipped with Lanyard Attachment Brackets to keep the Instruments Close-at-Hand and not Damaging-the-Marine Environment.

The Oil Filled Depth Gauge has a Readout from 0' to 150' of Depth with Bright Orange Indicator Marks  at 10' and 20' to Indicate Decompression and Safety Stop Requirements if Required. The Gauge is equipped with a Maximum Depth Indicator (MDI). The MDI Needle will Mark your Deepest Depth reached on a dive. This feature is helpful when Logging Dive Information providing key information for Repetitive Dives. The Depth Gauge has a Luminous Dial for Easy-Reading in Night or Low Light Conditions.

The Submersible Pressure Gauge (SPG) has a Readout from 0 to 5,000 in 500, 1,000, 2,000, 3,000, 4,000 and 5,000 psi Numerical Increments. Like the Depth Gauge the SPG has a Luminous Dial for Easy-Reading. The Pressure Gauge comes with a 7/16" Threaded 87.5 cm (34.5") High Pressure Hose. Both Instruments measure 55 mm (1.96") in Diameter.
Nitrox Compatible to 40% (The Recreational Limits of Nitrox)
Compact 2 gauge analog console
Recessed instrument compartments
Retractor attachment bracket - see below to order retractor
5000 psi pressure gauge
Depth gauge to 150 feet with maximum depth indicator
The Console comes with a Instrument Instruction and are covered by a 12 month limited warranty.