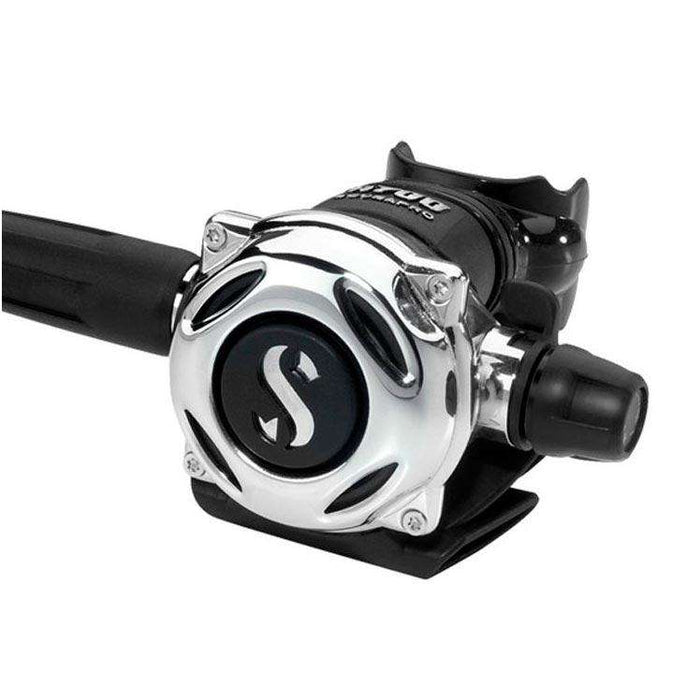 Scubapro A700 second stage
Sold out
Original price
$759.00
-
Original price
$759.00
The A700 second stage, with its metal casing, screw-down casing cover, metal valve housing (barrel) and over-molded accents, exhibits a real muscularity in design. Its air-balanced valve technology and oversized exhaust valve work in conjunction with a well designed sectional exhaust tee, a first-rate purge and responsive user controls to create a bullet-proof breather with effortless inhalation and an ease of exhalation that is unmatched.
A700 Second Stage: 
Rugged full metal case and valve housing (barrel) are able to withstand years of aggressive diving.
Metal construction enables the use of a larger diaphragm inside a compact casing, increasing breathing sensitivity.
Air-balanced valve smoothes out the inhalation effort when diving at varying depths and supply pressures.
User controls include a diver-adjustable inhalation effort knob and coaxial-flow Venturi-Initiated Vacuum Assist (VIVA) lever.
Super-flow hose features an oversized bore that allows more air to flow on each inhalation.
Ultra-comfortable orthodontic mouthpiece is easy to grip yet doesn't inhibit airflow.
Weight (without mouthpiece): 9.2oz/261g.
Airflow at 2900psi: 2000 l/min - 71 SCFM.