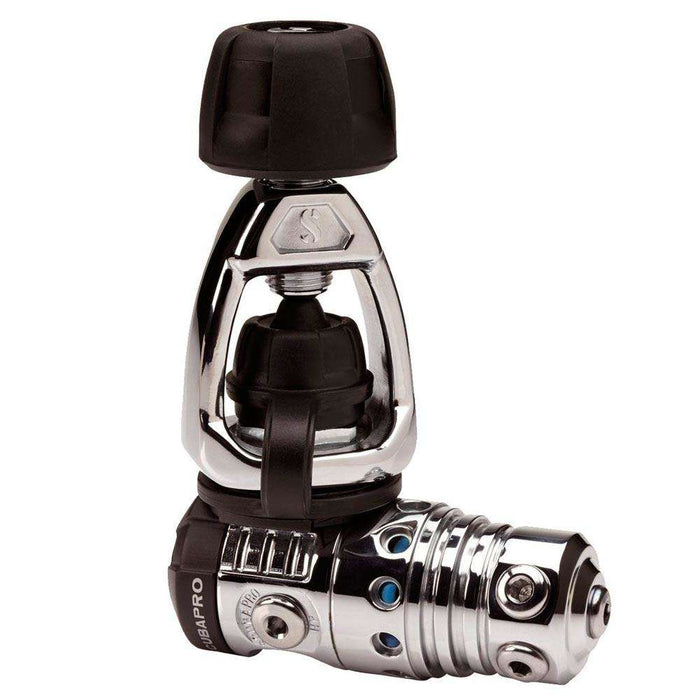 Scubapro MK25 EVO First Stage Yoke
Sold out
Original price
$498.00
-
Original price
$498.00
MK25 EVO First Stage, Yoke
Scubapro has been the Leader in the Evolution of piston controlled first stages since its beginning; the MK25 EVO carries on this heritage with an array of patented features ensuring unfailing performance. The MK25 EVO is a balanced piston first stage, Scubapro's absolute top performer. It is a superior regulator thanks to its ultra stable intermediate pressure (IP) resulting in an extremely-punctual and constantly high delivery of air. This means instant airflow at any tank pressure and water temperature for a real carefree dive.
Air Balanced, Flow-Thru-Piston-First Stages with air balanced pistons deliver significantly more air to the second stage than any other first stage, while their performance is totally unaffected by the changing tank pressure. A balanced piston allows the use of lighter and more sensitive components, resulting in ultra fast breathing response, instant delivery of air on demand, and extra high air flow, especially in low tank pressure ranges. The tired diver benefits from a smoother breathing regulator during the ascent or deco stop. Balanced piston first stages are the first choice of demanding sport divers and professionals. A balanced piston performs equally in warm and cold water environments.
The MK25 EVO has two opposite high pressure ports (HP). The arrangement of high and low pressure hoses is crucial to diving comfort. Two opposite HP ports allow for an individual positioning of the first stage (pointing up or down). This allows the diver to position the gauges either on the right or left side and increases the freedom of movement for head and neck. Multiple low pressure ports (LP) - For ultimate freedom in the arrangement of LP hoses, the MK25 EVO accommodates five HF (High Flow) ports on a swiveling turret, which allows for 360° degree swivel of hoses. High flow ports deliver about 15% more air than conventional ports. Externally adjustable intermediate pressure- allows authorized Scubapro service technicians to quickly fine-tune and adjusts the first stage after maintenance without the need to disassemble it.
Cold Water Diving conditions can be drastically different, including extreme cold water and outside temperatures, posing the possibility of a regulator "freezing". Therefore, resistance to freezing is imperative for the diver. The MK25 EVO regulator uses Scubapro's new Extended Thermal Insulating System (XTIS). The Scubapro MK25 EVO first stage regulator meets the new EN250-2014 requirements for cold water diving, CE approved for 3360psi (230 bars). This model goes even beyond this super stringent qualification and has successfully been tested in extreme cold diving conditions at less than 36°F (2.2°C). The freezing resistance has been increased by 30% over the previous MK25 regulator first stage. Scubapro has achieved this with some new design features. The new MK25 EVO has a proprietary thermal insulating coating on key internal components and an encapsulating main spring bushing that resist the cooling effect in previous MK25 first stage regulators, also as a specific anti-freezing measure; Scubapro engineers have designed a patented finned cap with additional body fins for the MK25 EVO first stages for optimal-cold water diving. The fins (ribs) of the XTIS act as a radiator to increase the surface area of heat transfer from the water to warm up the internal parts that have been drastically cooled down by the gas pressure drop. The new MK25 EVO has a bigger body cap, new body with insulating bushing and ribs, new antifreeze cap patented isolation system with all internal parts fully insulated to dramatically improve cold water performance.
The MK25 EVO weighs 20.9oz (592g) and is covered by a limited lifetime warranty.
Technical Information
MK25 EVO First Stage:
Air balanced flow-through piston in a chrome-plated brass body provides constant and effortless airflow unaffected by depth, tank pressure, or breathing rate.

Patented XTIS (Extended Thermal Insulating System) fully isolates the mechanical elements from the cold, increasing freezing resistance 30 percent over the previous MK25 without compromising breathing performance. Key insulation system components are visible in blue.

New spring insulating coating, body insulating bushing, anti-freeze cap, bigger body and cap thread all work in concert with the XTIS to improve cold-water performance.

Anti-freeze protection radically increases breathing reliability when diving in the most extreme water temperatures.

Two opposing high pressure ports allow the first stage to be positioned either up or down.

Five high-flow low pressure ports on a swivel turret maximize hose routing options.

External intermediate pressure adjustment enables technicians to fine-tune performance quickly and easily

3364psi/232bar INT

Weight: INT 232 (oz/g): 27.9/790

Airflow at 2900psi/200bar: (l/min/SCFM): >8500/301.

Intermediate pressure (psi/bar): 133-142/9.2-9.8.