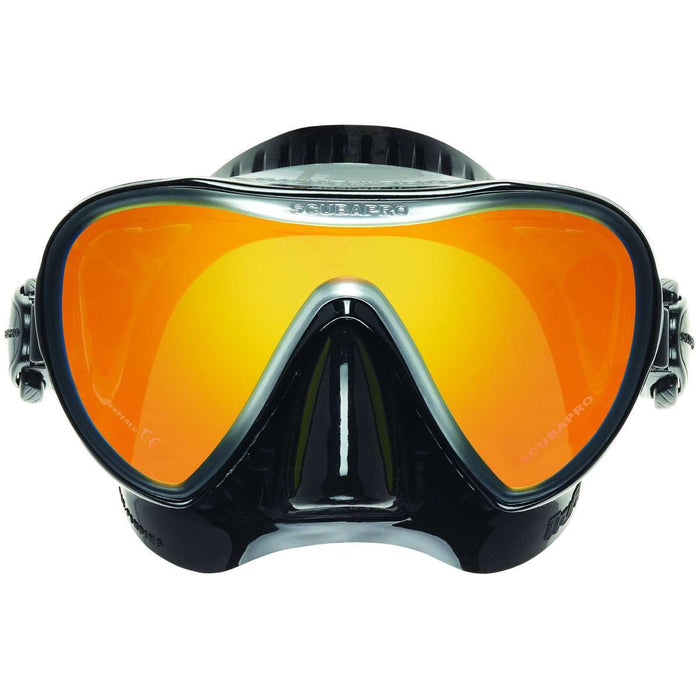 Scubapro Synergy 2 Mirrored Lens Scuba Mask, Black/Silver, with comfort strap
Original price
$193.00
-
Original price
$193.00
Called the most comfortable dive mask on the market, you have to only try on a single lens Synergy 2 Trufit to feel the difference.
Synergy 2:
New generation design features two separate silicone skirts. The main skirt is thin and soft to provide the best possible fit, seal and comfort. The outer skirt is thick to provide support and rigidity near the mask frame.

TRUFIT TECHNOLOGY
This revolutionary skirt design forms a watertight seal on virtually any face, allowing divers to have a secure mask without sacrificing comfort. Trufit skirts are designed with the highest quality silicone and are identifiable by their unique ribbing texture.
Ultra-Clear is a new and exciting Optical Quality Tempered Glass with Exceptional Clarity and High Light Transmission, with No Color Distortion. The Exceptionally High Light Transmittance and Lack of Distortion in the Ultra-Clear Lens Maximizes the Light available for Improved Visual Acuity, especially Underwater in Low Light Conditions, Better Vision, Truer Colors is what you get with Scuba Pro's Ultra-Clear Lenses. The Mirrored Lenses also provide protection against Glare when on the Surface making this one great Visual Experience for the new to the most experienced divers. The Mask comes with a Protective Mask Box and is covered by a 12 month limited warranty.

Features:

Main skirt offers a thin and soft silicone material for the best possible fit, seal and comfort against the skin.
Outer skirt, made with firmer silicone, provides support and rigidity where needed.
Rotating buckles work with a micro-adjustable strap to achieve a comfortable, watertight fit.
Buckle tabs are flexible, enabling the mask to be folded flat for traveling.
Ultra clear glass provides a bright and clear view of the underwater world.
Comes with comfort strap.
Excellent field of vision
Ultra clear lens prevents color distortion and provides brighter vision
Mirrored lens option is for glare-free vision
Easy to adjust push-button buckles
Folds flat for easy packing
Feel-One with your Environment, One-with-your-Element: Water