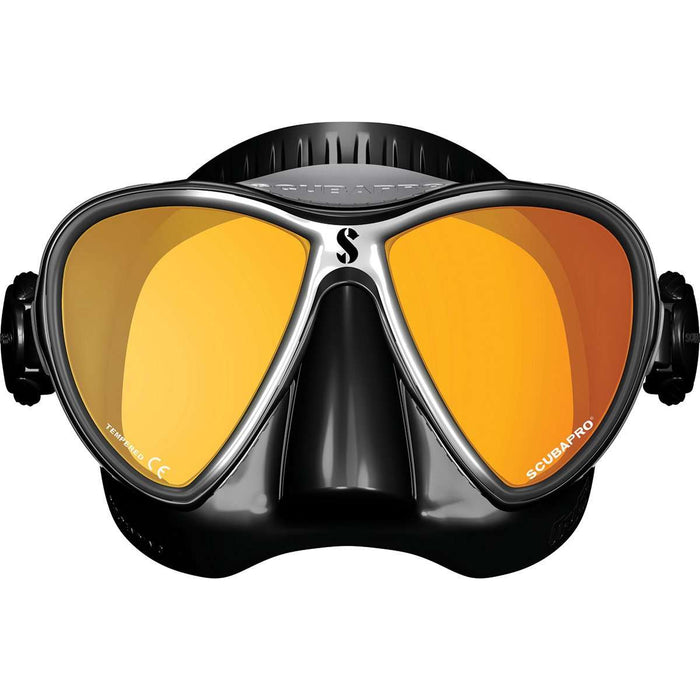 Scubapro Synergy 2 Twin Mirrored Lens Scuba Mask, Black/Silver
Original price
$193.00
-
Original price
$193.00
Scubapro Synergy 2 Twin Mirrored Lens mask is a superior mask that provides an expansive field of view and comfort.
The ScubaPro Synergy 2 Twin Mirrored Mask has all the  features you expect on a High Quality Dive Mask. The Mask has a Double Feathered Edge Skirt and a Wide Split Style Silicone Rubber Mask Strap that combine to create a Perfect Seal on the Face. The Dual Tempered Glass Lens Design allows for Maximum Underwater Vision and the Intake of Light. Mask is equipped with an Easy-to-Reach One-Hand Nose Pocket for Ear Equalization which can be utilized even when wearing thick gloves.

The Mask is equipped with Easy to Adjust Swivel Buckle System. Its Low-Profile Low Volume Personality means Clearing-the-Mask is an Effortless Task.
Ultra-Clear is a new and exciting Optical Quality Tempered Glass with Exceptional Clarity and High Light Transmission, with No Color Distortion. The Exceptionally High Light Transmittance and Lack of Distortion in the Ultra-Clear Lens Maximizes the Light available for Improved Visual Acuity, especially Underwater in Low Light Conditions, Better Vision, Truer Colors is what you get with Scuba Pro's Ultra-Clear Lenses. The Mirrored Lenses also provide protection against Glare when on the Surface making this one great Visual Experience for the new to the most experienced divers. The Mask comes with a Protective Mask Box and is covered by a 12 month limited warranty.