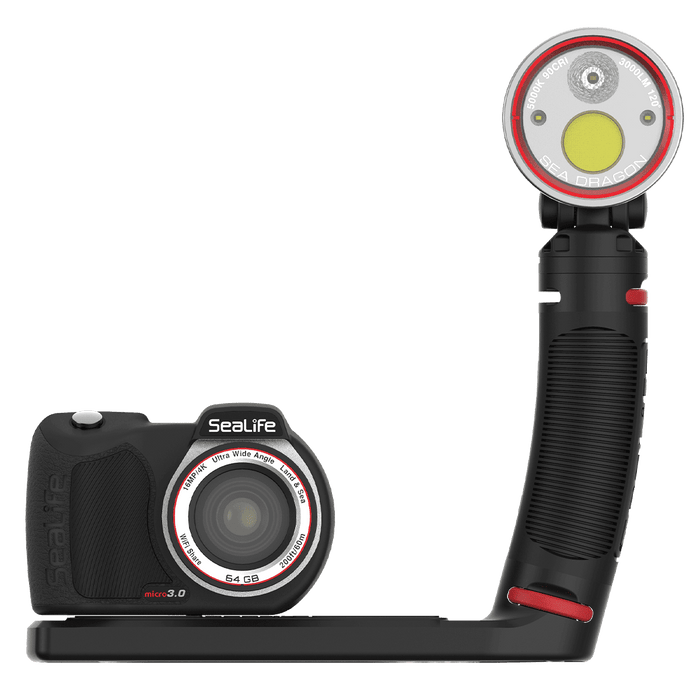 SeaLife Micro 3.0 Pro Dual Beam Set
Sold out
Original price
$1,049.00
-
Original price
$1,049.00
Sealife Micro 3.0 Pro Dual Beam Set is a versatile kit for the underwater photographer. It combines the Micro 3.0 underwater camera with the Sea Dragon 3000SF dual-beam underwater light. The camera captures up to 4K30 video and has an underwater depth rating of 200'. The light features a color temperature of 5000K with a CRI of 90. Its depth rating is 330'. With the push of a single button, you can adjust the beam angle of the light from a wide 120° to a 15° spot beam. The light includes a grip that the camera can be attached to for your underwater adventures.
The SeaLife Micro 3.0 Camera is the latest and third generation of the popular permanently-sealed Micro camera series. The camera is leak-proof with no O-rings to lube or maintain, so there is never a worry about flooding the camera. Like its forerunners, the Micro 3.0 features an ergonomic, compact design with easy-to-use controls and menus. The Micro 3.0 camera offers impressive still images with its large SONY® 16MP CMOS sensor, and vibrant 4K Ultra HD video. You can even shoot 8MP stills while you're recording video. Since it's permanently sealed, the Micro 3.0 has a large 3-plus hour battery good for a full day of diving and built in 64gb of memory to store thousands of photos and hours of video.

The camera's ease of use starts with the three wide "Piano key" buttons that are easy to locate and control, even with dive gloves on. The intuitive Micro 3.0's Easy Setup feature quickly guides you through the correct settings based on the shooting environment, depth and lighting accessories being used.

Micro 3.0 users can fine-tune their underwater images with a new manual white balance adjustment and the ability to capture images in RAW format, for those that want to edit their images later.

The built-in wide angle 100° lens allows the diver to get close to the subjects while still keeping everything in the picture.
Sealife Sea Dragon 3000SF Pro Dual Beam Photo-Video light is the perfect all-around photo, video, and dive light. With a simple one-button push, you can switch from the wide 3000 lumen 120° beam to a narrow 1500 lumen 15° spot beam. For imaging, the spot beam offers many creative opportunities such as to create a narrowly focused snoot or stage spotlight effect. The spot beam also serves as a primary or secondary dive light for most diving applications. Two red LEDs make this the perfect light combination for both day and night dives.

The narrow beam feature has a long effective range making it useful to see in dark areas and discover hiding fish. The Sea Dragon Pro Dual Beam also offers two 180 lumen 88° red LEDs. Red light won't affect your own eyes' night vision or scare-off light-sensitive sea creatures, a simple push on the feature button shifts the light from red to the wide beam at 3000 lumens. You are ready in an instant to capture still or video images.

Camera:
16 megapixel Sony IMX083 CMOS 1/2.3" image sensor
iCatch V50 DSP processor
4K Ultra HD Video @ 30fps and 1080p HD video @ 120 fps (Super Slo-Mo)
260K hi-res 2.4" TFT color LCD
Permanently sealed – No waterproof door or O-rings to maintain
Ultra-fast 0.1 second shutter response – Virtually no shutter lag
Easy Setup with five Land & Sea™ scene modes
Three built-in digital underwater color correction filters (white balance modes)
Manual White Balance Adjustment to customize underwater color correction to your specific depth and water conditions
Continuous Burst Shooting – shoots 10 high resolution 16MP JPEG pictures in 1 second
RAW image format – Hi-res, uncompressed .DNG image files for virtually unlimited photo editing options
100° Wide angle lens – 7 element, fully multi-coated, aspheric optical lens
Stabilization – Electronic stabilization reduces vibration and shake for smooth video recording
"Piano Key" button controls for easy operation, even with dive gloves on
Wireless –  Preview, download and share pictures/videos to smart phone or tablet with free Micro 3+ app
64GB internal memory holds 10,000 16mp pictures, 140 minutes 4K-30fps video, 205 minutes 1080p-60fps, or 560 minutes 1080p-30fps HD video
Waterproof to 200ft / 60m
Picture in Video – capture 8mp still images while recording 4K video
Compact design for easy handling and lightweight travel
Fully rubber-armored and impact resistant
Focus distance from 15" (38cm) to infinity
Time lapse shooting at set time intervals – Saves as video file or series of still images
Upside-down shooting mode – When mounting camera upside down, pictures and videos are saved upright
Shortcut mode – Push and hold menu button to quickly access a specified menu setting
2000 mAh / 3.7V / 7.4Wh internal lithium ion rechargeable battery for 3+ hours video or 1000+ images
External power mode – Connect and operate camera with external power supply (land only)
LED status light – Confirms charging and transfer status
Soft textured rubber grip design for sure grip
Lights Features:

Powerful 3000 lumen wide beam COB LED (BridgeLux V18 COB LED) and 1500 lumen narrow beam LED (Luminus SST-40-W LED)
90 Color Rendering Index (CRI) that mimics natural daylight
One button control for easy operation. One button to power light on/off and select brightness
6 Light modes: Flood 100%, 50%, 25%; Spot 100%, 50%; One red light mode
60-minute run time at full power
Constant brightness – Regulated circuitry so light won't dim with battery power
Easy to expand with Flex-Connect™ trays, grip and flex arms
Quick-release button to detach light and aim in crevices and hard to reach areas
120° wide beam evenly illuminates the subject with no hot spots (90° underwater)
15° narrow beam for long reach and creative snoot effect (11° underwater)
Emergency mode emits blinking light or SOS signal to alert others of distress. Activated by holding down power button for 5 seconds from power off state
Depth rated to 330 ft (100m)
Corrosion-proof metal light head for heat dispersion and durability
Removable 25Wh 3400 mAh Li-Ion battery w/ charger and international plug adapters included
Waterproof battery compartment protects internal electronics even if light accidently floods
Includes standard single tray, grip and compact travel case
Mounting tray with universal ¼-20 screw fits all SeaLife and other brands