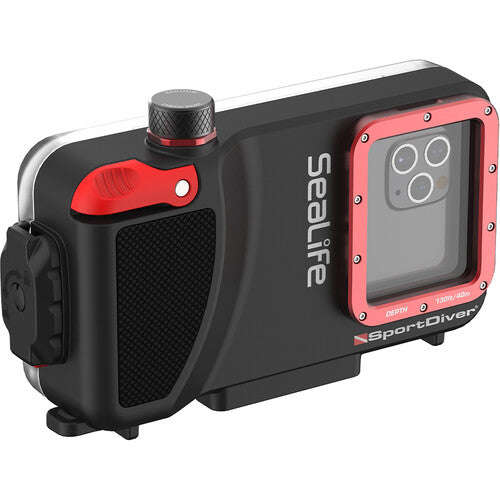 SeaLife SportDiver Underwater Smartphone Housing
Original price
$0.00
-
Original price
$0.00
The SeaLife SportDiver underwater housing works with most Android models & iPhone® 7 and up.  The housing operates your phone's camera via Bluetooth, with the free SportDiver app providing automatic or manual control of advanced camera settings, captures photos and video directly to your iPhone's camera roll.  The app also allows you to control advanced camera settings, like Zoom, Lens selection, Exposure, Focus, White Balance, Tint, RAW capture, Live Photo and Background Blur, as if you were using a more sophisticated underwater camera.  The SportDiver offers fast and easy playback, and the clear back of the housing has a full unobstructed view of your screen and underwater environment.
The housing protects your phone in two ways: a vacuum pump that verifies the integrity of the seal before you dive, and a moisture detector that will alert you in the unlikely event of a leak during the dive. Large shutter and control buttons make the housing easy to use even if you're wearing dive gloves, and the clear back panel shows you the phone's entire screen. Three 1/4"-20 sockets on the bottom of the housing allow it to mount on a tray or tripod.
Details:
Depth rating: 130'
Made of corrosion-resistant polycarbonate
Features aluminum and stainless steel parts
Large shutter & control buttons for easy operation
Cam-lock sealing mechanism easily and securely locks the waterproof door
Vacuum pump verifies seal integrity prior to diving
Moisture sensor alerts you in the unlikely event of a leak during the dive
Anti-fog design when SL911 Moisture Muncher capsule is used
Includes removable external underwater color correction filter
Three 1/4"-20 tray/tripod mounting sockets
Uses two included AAA batteries
Compatibility (the list is constantly updated, for most recent compatibility chart please check here):
iPhone: 14, 14 Pro, 14 Plus, 14 Pro Max, 13, 13 Pro Max, 13 Pro, 13 Mini, 12, 12 Pro, 12 Pro Max, 12 Mini, 11, 11 Pro, 11 Pro Max, X, Xr, Xs, Xs Max, 8, 8 Plus, 7, 7 Plus, and SE (2nd Gen)
Samsung Galaxy Note Series: Note 20 Ultra 5g, Note 20 5G, Note 10+ 5G, Note 10+, Note 10 Lite, Note 10, Note 9
Samsung Galaxy "S": S23, S23 Ultra,  S23+, S22 Ultra,S22+,S22,S21+ 5G,S21 5G,S21 FE 5G,S20+ 5G,S20 5G UW,S20 FE,S10,S10 5G,S10+,S10E,S10 Lite,S9,S9+,S8,S8+

Google Pixel : Google Pixel 7, Google Pixel 7 Pro, Google Pixel 6A, Google Pixel 6 Pro, Google Pixel 6,Google Pixel 5A (5G),Google Pixel 5 (5G),Google Pixel 4A 5G,Google Pixel 4A,Google Pixel 4,Google Pixel 4XL,Google Pixel 3a,Google Pixel 3aXL,Google Pixel 3,Google Pixel 3XL,Google Pixel 2XL,Google Pixel 2,Google Nexus 5X,Google Nexus 6P
Samsung Galaxy "A" Series : A80, A72, A71 5G,A71 5G UW,A70/A70s,A53 5G,A52 5G,A51 5G,A51,A50,A32,A31,A30,A21 / A21s,A20,A13 5G,A12,A11,A10e,A8
Most other Android phones.
The up to date SportDiver Smartphone compatibility chart is available
here