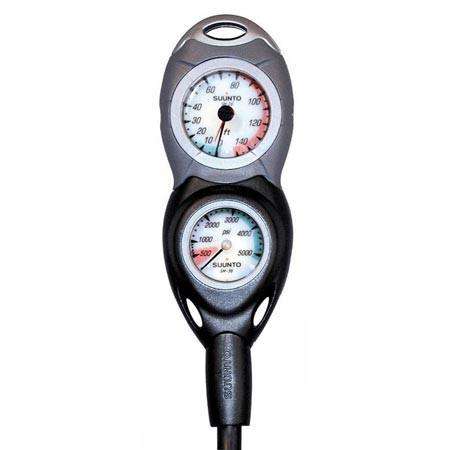 Suunto Analog 2 Gauge Console (CB-2 IN LINE/4000/150 COMBO)
Sold out
Original price
$299.95
-
Original price
$299.95
Suunto analog dive gauges are a reliable and accurate choice for scuba divers.
The Suunto Analog 2 Gauge Dive Console is comfortable to hold and easy to read, with both a scuba pressure gauge and analog depth gauge. The SM-36 tank pressure gauge uses a safety-pin-type tube and gear mechanism for accuracy and durability.
The SM-36 4000 psi tank pressure gauge incorporates a safety-pin-type tube and a gear mechanism, which provide outstanding accuracy and durability. The clear and bright phosphorescent dial face provides excellent readability, even in demanding conditions.
The SM-16 depth gauge has a reliable Bourdon tube mechanism with gear system, maximum depth indicator, and zero-in facility for altitude diving. Both gauges have a phosphorescent dial face for high visibility in low light conditions and night dives. 
Features:
Phosphorescent easy to read analog dials.

Reliable and accurate bourdon tube mechanism.
Maximum depth indicator
With Miflex Carbon HD high pressure hose
Reads up to 4000 PSI and 150 feet
Compatible with Suunto quick release
Zero-in facility for altitude diving