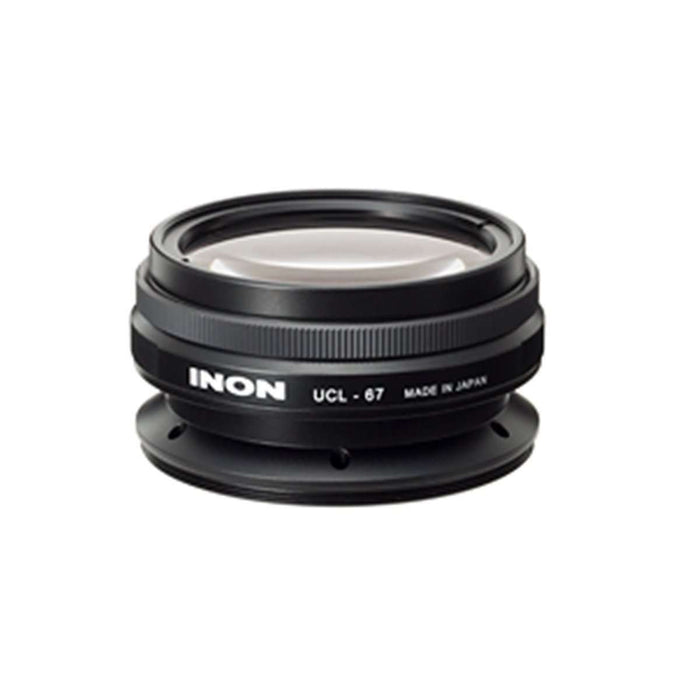 Inon UCL-67M67 Close-up Underwater Lens
Sold out
Original price
$375.00
-
Original price
$375.00
The UCL-67 M67 close-up lens for underwater photography is designed to deliver high magnification yet superior image quality best suited to full frame SLR macro lenses of focal length 60mm - 100mm with comfortable long working distance enabling easy lighting. The lens also supports mirrorless as well as compact system.
Optional "Lens Adapter Ring for UCL-67" is attached on the M65 screw thread of the UCL-67 allowing to stack Inon M67 series ("UCL-165M67")
Employing achromatic lens effectively suppresses chromatic aberration and anti-reflection coating on all surfaces suppresses flare/ghost. Designed sole use underwater to provide effectively suppressed aberrations in all focal range and unparalleled high quality image on any supported shooting range
Lens mount is highly versatile screw type "M67 Mount"
Powerful magnification with focal length 67mm (+15 diopter)
The lens is consists of 4 elements in 3 groups using high refractive index glass to accommodate with a macro lens for full-frame digital SLR with compact body yet delivering high magnification and superior image quality
Outer diameter / Length 70mm / 37mm (2.76in / 1.46in)
Weight (air / underwater) 340g / approx.227g (12.0oz / 8.0oz)
Focal length (underwater) 67mm (2.6in) / equivalent to +15 diopter
Magnification (*2) 2.76x (area ratio: 7.65x)
Body material / Finishing Corrosion resistant aluminium alloy / Rigid black almite
Glass / Coating Optical glass / Both side coating
Mount thread diameter / pitch M67-0.75
Depth rating 60m (197ft)