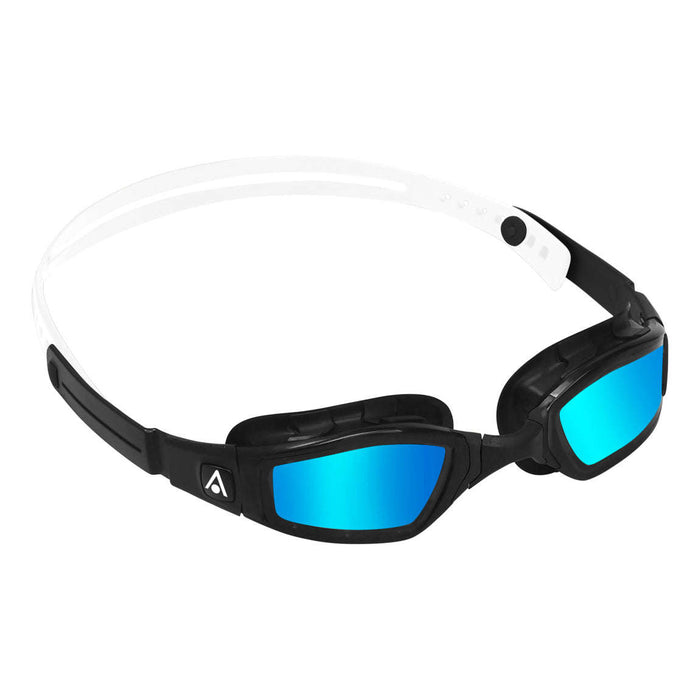 Michael Phelps Blue Titanium Mirrored Ninja Goggles, Black/White, 192230
Sold out
Original price
$69.95
-
Original price
$69.95
The revolutionary Michael Phelps Blue Titanium Mirrored Ninja goggle combines a patented frame technology and a hydrodynamic low profile fit offering giving swimmers a competitive edge with the light weight, streamlined goggle. Utilising latest technologies, we have incorporated Advanced Fit Technology (AFT) into the softeril skirt to offer best fit and comfort. The patented Race Fit System offers swimmers a hassle-free experience so they can simply set the strap once and focus on swimming fast.

Adjustable Nose Bridge with 4 interchangeable size options for a perfect fit. Customizable fit for swimmers to find a nose bridge that matches their face width and eye position. For a perfect comfortable fit and leak free seal.

AFT: Advanced Fit Technology provides a leak resistant seal. A patented technology mixing soft and rigid silicone. This dual density provides softer grip to the face reducing marks on skin and offers watertight seal for maximum comfort.

EXO CORE™ Technology for ultimate hydrodynamics. The bi-material frame technology combines exceptional stability with maximum comfort.The semi-rigid exoskeleton allows lens protection and integrated structure, while ultra soft Softeril material offers a streamlined, lightweight design with enhanced durability

Race Fit System
Customizable and low-profile strap adjustment system paired with a high-quality silicone strap.
Model: 192230
Other Features
180° distortion free vision
Silicone Strap
Anti-fog and Anti-scratch treated lenses
Hypoallergenic
Made in Italy
Lens Features - Titanium Mirrored Lens have enhanced sun and glare protection for maximum visibility in outdoor conditions.
Blue Titanium Mirrored

Maximum Light Protection

Boosts Color Contrast

Enhances warm color against blue

light transmission : 18% - 27%